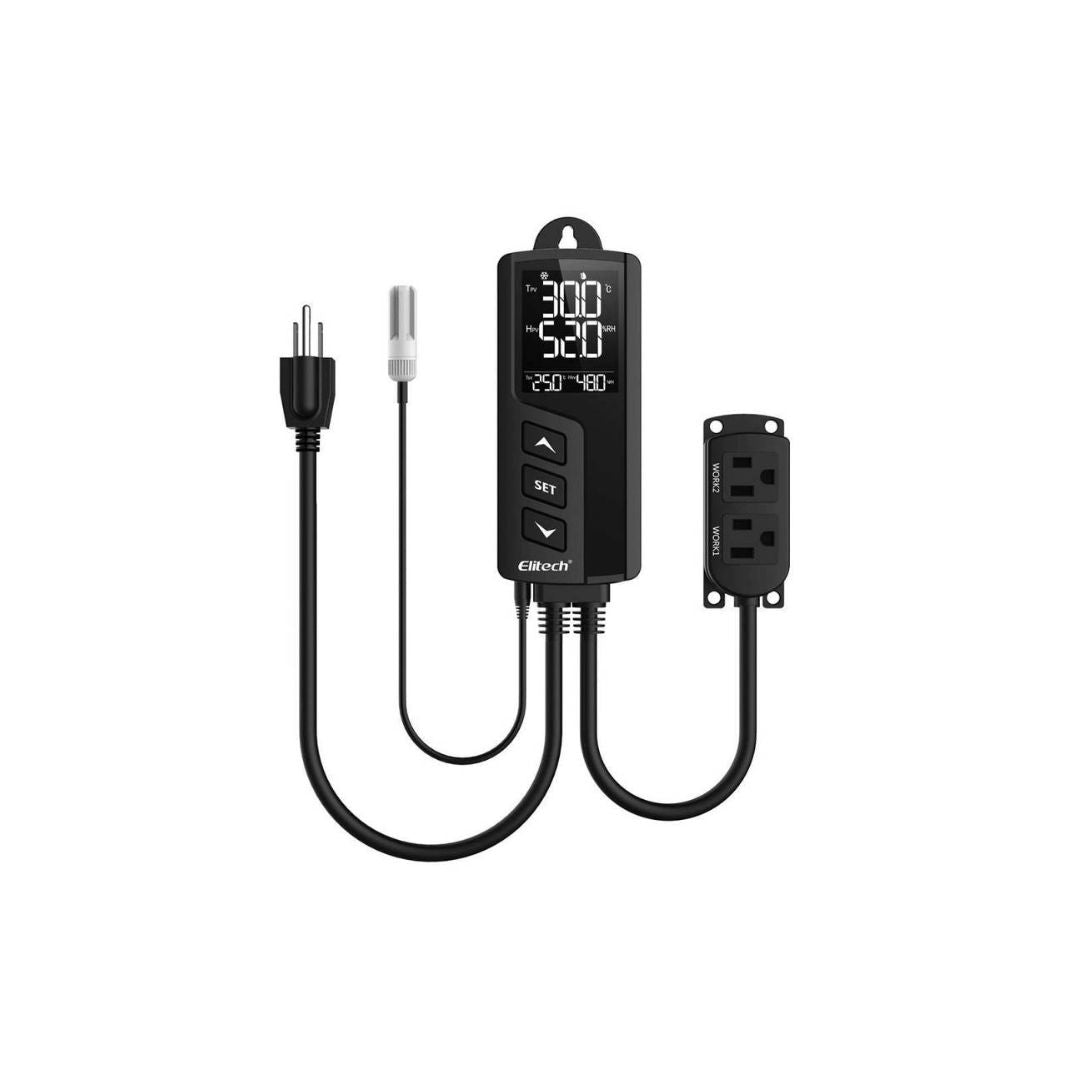 Temp Controller Thermostat
Elitech STC-1000Pro TH is an integrated plug-and-play temperature and humidity controller. It has a temperature and humidity integrated probe and features pre-wired two output sockets that can achieve "just plug and play " to control temperature and humidity simultaneously.

The large LCD screen intuitively displays temperature, humidity, and other parameters. With the three-key design, it enables quick parameter setting, such as alarm limit, calibration, protection time, etc. It also has the function of Fahrenheit and Celsius conversion. The default temperature unit for the US version is ℉, while the UK and Europe versions are °C.
One-way sensor input: temperature & humidity integrated probe sensor.
Two-way control outputs: temperature output socket (10A), humidity output socket (10A).
Highlighted Features
Wide control range Temperature & humidity 2 in 1 Sensor; Temperature control range 23℉~158℉, humidity control range 5%RH~99%RH. It starts cooling or heating; humidifying or dehumidifying according to configured parameters, which helps to keep a desired temperature/humidity anytime.
no wiring Its large LCD screen, simple 3-button, and pre-wired design make it easier to use with plug and play.
Dual Relay Output Be able to connect two types of equipment at the same time, work 1 for temperature controlling; and work 2 for humidity control.
multi-functional setting Its functions include high or low alarms, start delay, temperature or humidity calibration, Temperature unit ℃/℉, and continuous working time for humidity.
safe & reliable Comply with CE, FCC, and WEEE standards and adopt fireproof ABS case for safety when in use. Flame Retardant UL94 V-0. 24/7 US Technician Support via Email and Phone
 Applications 
Elitech STC-1000Pro TH temperature controller thermostat can be widely used in areas that need automatic temperature controls such as snake rack,  homebrew, pet breeding, seeding heat mat, aquarium, seafood machine, aquaculture, hatchery/incubator farming, greenhouse planting, brew, ferment, fridge, freezer, slow cooker, etc.
Specifications
| | |
| --- | --- |
| Power Supply | 110~240VAC,50/60Hz |
| Temperature Measuring Range | -5~70℃/ 23~158℉ |
| Temperature Control Range | -5~70℃/ 23~158℉ |
| Temperature Resolution | 0.1℃/0.1℉ |
| Temperature Accuracy | ±0.5℃/±1℉ |
| Humidity Measuring Range | 5~99%RH |
| Humidity Control Range | 5~99%RH |
| Humidity Resolution | 0.1%RH |
| Humidity Accuracy | ±5%RH |
| Working Environment Temperature | 0℃~60℃/ 32~140℉ |
| Storage Temperature | -10℃~70℃/ 14~140℉ |
| Relay Output Capacity | 10A /110~240VAC |
| Length Of Sensor Cable | 2m (including probe length) |
| Length Of Power Probe | 1.5m |
| Cable Length(Outlet) | 0.3m |
| Enclosure Size | 165x 60x 32 mm |
| Best Viewing Angle of LCD Screen | 6 o'clock position |
| Output Power @220VAC | 2200W(resistive) in total/ 200W(inductive) per channel |
| Output Power @110VAC | 1100W(resistive) in total/ 100W(inductive) per channel |