*

NOTE
For more information on the SenseCAP weather station take a look at our blog post here
S1000 10-in-1 Weather Sensor measures air temperature, relative humidity, barometric pressure, light intensity, rainfall (optical), PM2.5, PM10, wind speed, wind direction (ultrasonic) and CO2. It is ideal for applications for carbon and environment monitoring.
In order to actively respond to climate change, China, South Korea, Japan, the United States and other countries have successively announced carbon neutrality goals to the world since 2020. Monitoring and calculating carbon emissions are the basis for carbon neutrality. 
Meanwhile, data on localized weather, known as microclimates, is the new frontier for more precise and accurate weather forecasting. As a result, the collection of weather data is becoming increasingly smaller and gridded. In light of this, weather stations, which are the most convenient means of collecting weather data, are seeing a rise in demand. 
This SenseCAP ONE S1000 10-in-1 Compact Weather Sensor can help you collect and monitor Carbon and weather data, which are crucial in different application scenarios such as smart city projects and etc. The SenseCAP ONE S1000 is equipped with sensors to measure 10 parameters: air temperature, relative humidity, barometric pressure, light intensity, rainfall, PM2.5, PM10, wind speed, wind direction and CO2.
SenseCAP ONE is IP66 certified, and it features strong robustness to withstand even the toughest outdoor environment. The Sensors to measure wind speed and wind direction use ultrasound instead of traditional mechanical 3-cup or vane anemometer. The advantage of using ultrasonic sensors is that reducing the movable parts can make the sensor less likely to break and thereby is easier to be maintained without any sacrifices in precision or manpower.
The SenseCAP ONE series uses the RS 485 (MODBUS-RTU) communication protocol. Hence, the SenseCAP ONE compact weather sensor can be used with any datalogger that supports RS 485 (MODBUS-RTU). 
We also provide the SenseCAP Sensor Hub 4G Data Logger (supporting solar power and DC wall power) that can be used with the SenseCAP ONE series weather sensor. The data can be transmitted to the Sensor Hub and then to the SenseCAP server or a private server. If you choose to use the SenseCAP server, we also provide an API for you to easily make your own applications.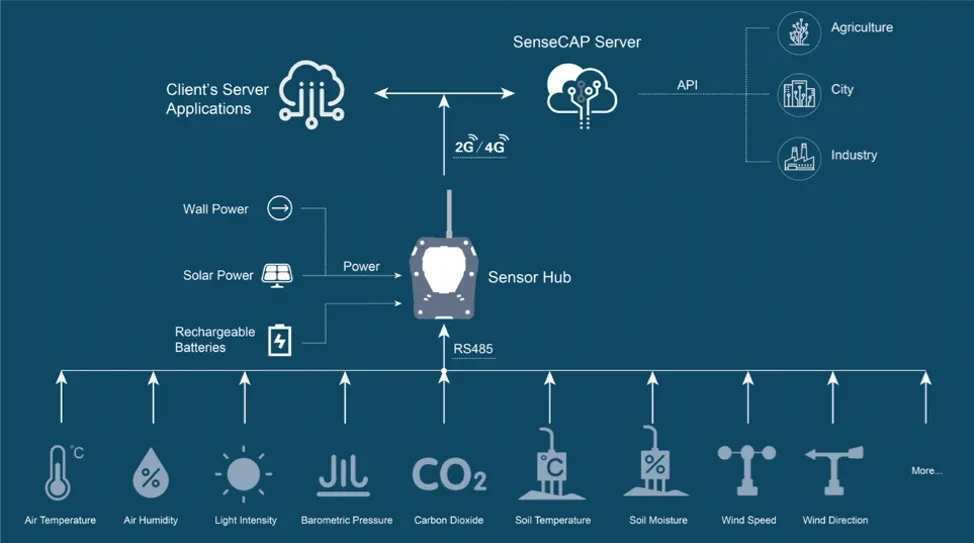 Highlighted Features
High-Precision 10-in-1 weather sensor accurately measures the Temperature, Humidity, Barometric, Wind Speed & Direction, Light, PM2.5, PM10, Rain, and CO2
Embedded with the electronic compass/magnetometer: enabling easy installation and you can choose to disable the electronic compass while orienting to the North manually.
A flange plate and 3m cable are included in the package for the pole mount
IP66 rated: waterproof, and dustproof, suitable for outdoor scenarios
Integrated heaters that can be switched on in extreme weather
Ultrasonic wind speed & direction sensors without moving parts
Optical rain gauge, compact in size and user-friendly
Radiation shields are equipped to ensure accurate ambient measurement.
Supported interface: RS485 (MODBUS-RTU) 
Calibrated and maintenance-free
Applications
Transportation and Traffic