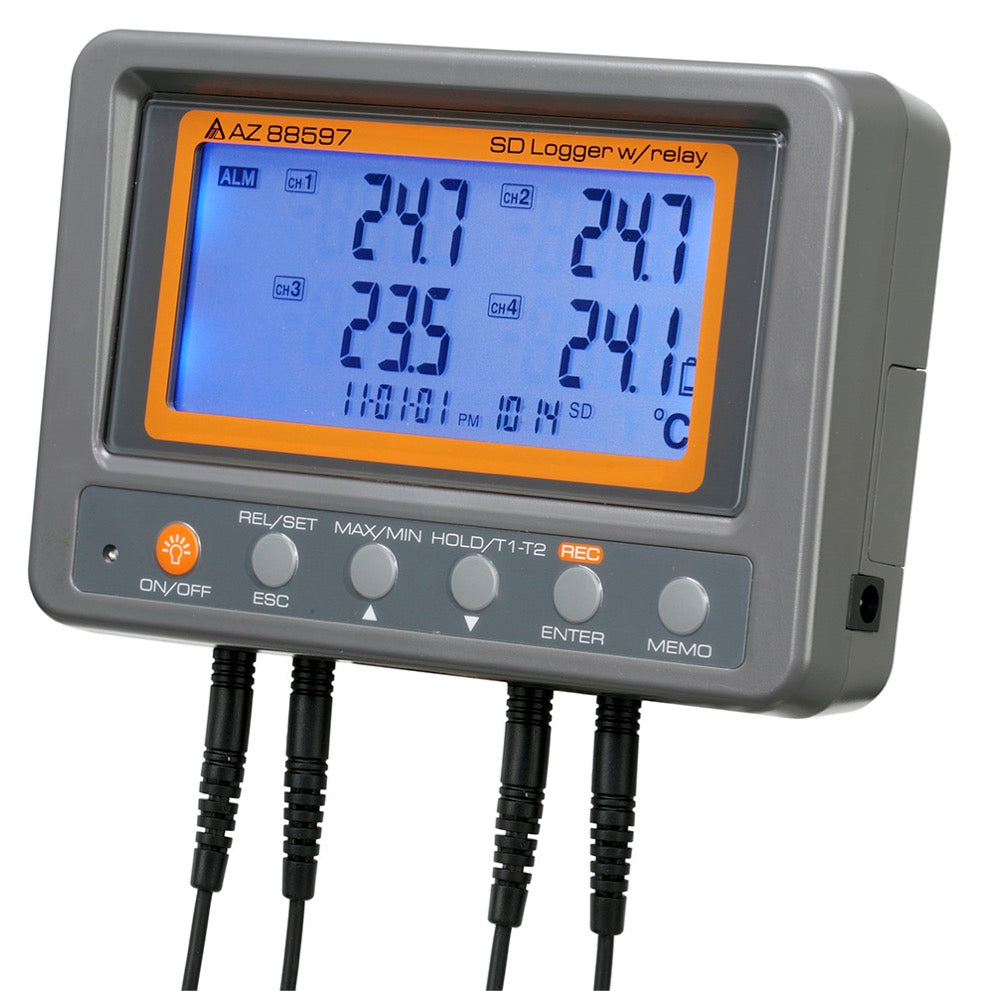 4 Channel Thermistor Recorder with Relay
The 88597 AZ Temperature Recorder can measure and monitor the temperature from 4 different origins, including 4 Thermistor channels. Users could use the 9V DC and its wall mount function for long-time recording works, or 4 PCS AA batteries for convenient monitoring/logging. The temperature value would be saved in the TXT format into the SD card, and then users could proceed with their following analysis by Excel or other software. It could be operated easily in different PC operation systems. The SD card could be inserted and taken off easily.

The 88597 AZ 4 Channel SD Card Thermometer with Thermistor Sensor has a super big LCD which could be met with temperature monitor and recording purpose for the Construction, Logistic related business and other Industry. It also has the back light function, which could let user to operate the data logger in the dark area easily.
Highlighted Features
Super big LCD portable / wall-mount SD card logger




Measure and Log 4 temperature at once by using quick response NTC

Thermistor probes




Programmable independent high/low alarm of each channel with relay output *

One button press operation to display T1-T2




Display temperature change from baseline




Temperature offset function for adjustment purpose




Relay to trigger external alarm system on (ex: GSM message)




Hold function, Max/Min, offset, Low battery indicator




Beeper and LED alarm are both available




Programmable temperature High/Low alarm limit




Over-range indication with error messages




Blue back light function for dark area operation




12/24 hour time format selective




Real time display (YEAR-MON-DATE, Hour-Min)




20 mins auto power off to save power




Temperature units ℃/℉ selective

rd)

Applications
The 88597 AZ 4 Channel Thermistor SD Card Data Logger has a relay function, which could transfer the temperature signal to the other equipment (ex: GSM Alarm) or control the following related instruments.

Specifications
Model
88597

Thermistor Temperature Range

-30~70℃, -22~158℉

Thermistor Temperature Resolution

0.1℃, 0.1℉

Thermistor Temperature Accuracy

0.5℃

Relay

A normal open contact
Contact rating@resistive load: 1A 30VDC/0.5A 125VAC

SD Card

SD Card or SDHC card (MMC and SDXC cards are not compatible)

Sampling Rate

Programmable from 1 second up

LCD Size

104(L) * 47(W) mm

Operating Temperature

0~50℃

Operating RH%

Humidity <80%

Storage Temperature

-20~50℃

Storage RH%

Humidity <90%

Meter Size

152(L) * 100(W) * 39(H)mm

Weight

~300g

Battery

4PCS AA Alkaline Batteries or 9V DC Adaptor

Standard Package

Meter, 4 PCS Thermistor Sensor Probes
Battery, Manual, SD Card, Plain Box

Optional Accessory

Temperature Thermistor Sensor Probe, 9V Adaptor