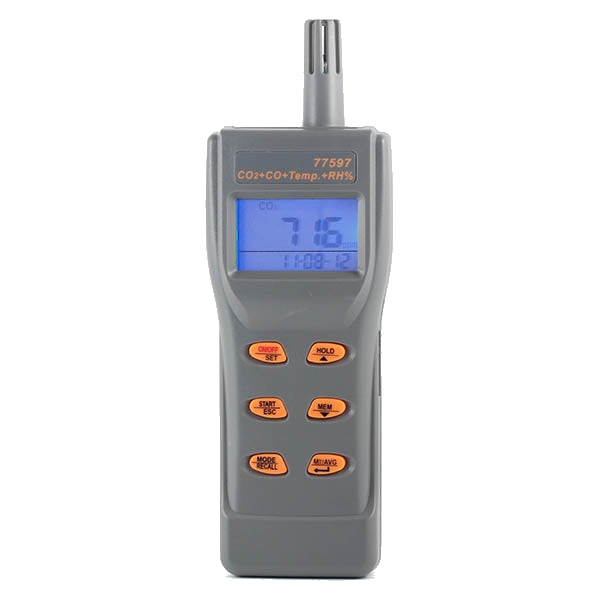 Temp/RH/CO/CO2 USB Analysis Meter
Pickup available at EUCA Head Office
Usually ready in 24 hours
Temp/RH/CO/CO2 USB Analysis Meter
EUCA Head Office
Pickup available, usually ready in 24 hours
Clearwater Office Park
Parkhaven, Block H Ground Floor
Boksburg
Gauteng
1459
South Africa
+27123623271
Elevate your indoor air quality monitoring with the 77597 AZ Combo CO2 & CO & Temperature & RH% Meter. This professional-grade portable device empowers you to assess and record indoor air quality effortlessly. Equipped with advanced NDIR waveguide technology for CO2 measurement and a fast-response electrochemical CO sensor, the meter ensures accurate and rapid results.
Its intuitive interface, featuring a large LCD with a blue backlight, allows easy toggling between CO2, CO, temperature, humidity, and more. With programmable warning levels, audible alarms, and comprehensive data analysis capabilities via mini USB output, this meter is indispensable for maintaining a healthy environment in offices, schools, hospitals, and homes.
Its compliance with industry standards and versatile applications make it an essential tool for ensuring safe and comfortable indoor spaces.
Highlighted Features
Professional portable meter for indoor air quality assessment and recording.
Features a large LCD with blue backlight, ensuring readability in low-light environments.
Single-touch operation cycles through CO2, dew point temperature, wet bulb temperature, air temperature, humidity, and CO readings.
Incorporates NDIR waveguide technology CO2 sensor for precise measurements.
Equipped with a fast-response electrochemical CO sensor for rapid detection.
Programmable CO warning level for enhanced safety.
Long-term drift compensation for accurate CO2 readings over time.
Audible alarm with ~80 dB threshold setting to alert of critical levels.
Functions include Max, Min, TWA, SETL, average, and hold for comprehensive analysis.
Mini USB output enables data transfer to PC for in-depth analysis.
Manual recording of 99 data points with review capability.
Auto-logging memory accommodates up to 32,000 data points.
Housing design with ventilation rails ensures quick and accurate response times.
Simple manual calibration for CO2 using fresh air around 380~420 ppm.
Manual calibration option is also available for CO measurements.
RH sensor calibration facilitated with AZ 33%/75% salt bottle calibration solution.
Applications
The versatile AZ Portable CO2 CO Temperature Humidity Meter functions as a comprehensive multi-gas detector, proficiently assessing indoor air quality metrics such as CO2 levels, CO concentration, dew point, wet bulb value, and air temperature. This adaptable instrument serves as an invaluable CO2 data logger, ideally suited for diverse environments, including workplaces, offices, hospitals, schools, stations, and residences.
It stands as an indispensable tool for diagnosing indoor air quality (IAQ) issues, particularly relevant due to the adverse effects of poor indoor air quality, including fatigue, reduced concentration, and potential illnesses like sick building syndrome. The significance of monitoring IAQ, particularly CO2 levels and air ventilation, is widely acknowledged in various settings such as offices, classrooms, factories, hospitals, and commercial establishments, aligning with regulations related to industrial hygiene in specific regions.
Of notable concern is the highly hazardous nature of CO, an odorless, colorless, and tasteless gas that is perilous to both humans and animals. Keeping CO concentration within safe limits is pivotal, with ASHRAE Residential standards 62-1989 underscoring a maximum indoor air quality threshold of under 9 ppm for living areas. Furthermore, adherence to the OSHA exposure limit, necessitating the removal of employees from enclosed spaces if CO concentration surpasses 100 ppm, is imperative.
Employing advanced NDIR (non-dispersive infrared) technology, the portable AZ Combo CO2, CO, Temperature RH Meter guarantees reliability and long-term stability. Its capabilities extend to assessing HVAC system performance and air ventilation control, making it a valuable asset. Crafted by AZ Instrument, a reputable IAQ CO2 Meter manufacturer, the AZ 77597 CO and Carbon Dioxide Detector reflects the company's extensive expertise in creating such instruments.
Specifications
Model
77597

CO2 Range

0~9999 ppm (5001~9999 ppm out of scale range)

CO2 Resolution

1 ppm

CO2 Accuracy

±30 ppm ±5% of reading (0~5000 ppm), other range are not specified

CO2 Response Time

<30 Seconds (90% step change)

CO2 Warm-up Time

30 Seconds

CO Range

0~1000 ppm

CO Resolution

1 ppm

CO Accuracy

±3 ppm for less than 20 ppm,




±5 ppm for less than 100 ppm,


±10% of reading for 101~500 ppm,
±20% of reading for 501 ppm and above

CO Response Time

<60 Seconds (90% step change)

Air Temperature Range

-20~60℃, -5~140℉

Air Temperature Resolution

0.1℃, 0.1℉

Air Temperature Accuracy

±0.6℃, ±0.9℉

Air Temperature Response Time

<2 mins (90% step change)

Relative Humidity Range

0~99.9% RH

Relative Humidity Resolution

0.1% RH

Relative Humidity Accuracy

±3%RH (at 25℃, 10~90%RH);
others ±5%RH

Relative Humidity Response Time

<10 mins (90% step change)

Dew Point Temp. (DP)

-20~59.9℃

Wet Bulb Temp. (WB)

-5~59.9℃

LCD Size

44(L) * 26(W) mm

Meter Size

205(L) * 70(W) * 56(H) mm

CO2 Sensor Operating Temperature

-20~50℃

CO Sensor Operating Temperature

0~50℃

Other parameters Operating Temperature

-20~60℃

Storage Temperature

-20~60℃

Storage RH%

10~90% RH (avoid condensation)

Power Supply

AA * 4 PCS or 9V adaptor

Battery life

> 24 hours (Alkaline Battery)

IP Rating

> IP40

EMC

EN 50270:2015

Weight

~200g

Standard Package

Meter, Manual, Batteries,
USB Cable & CD, Hard Carry Case