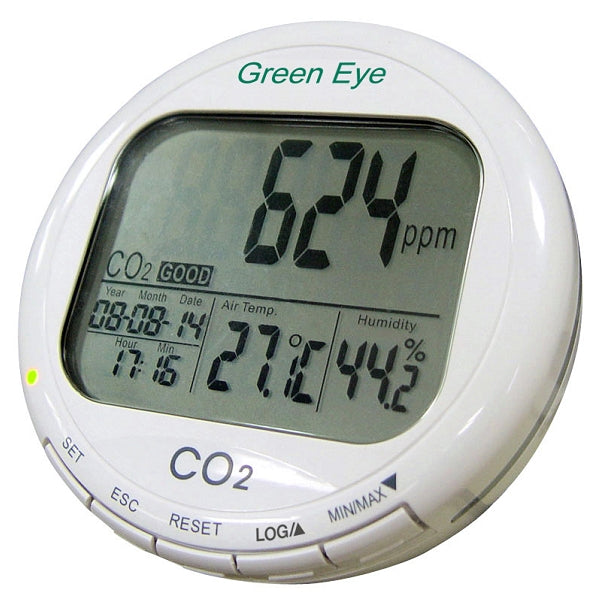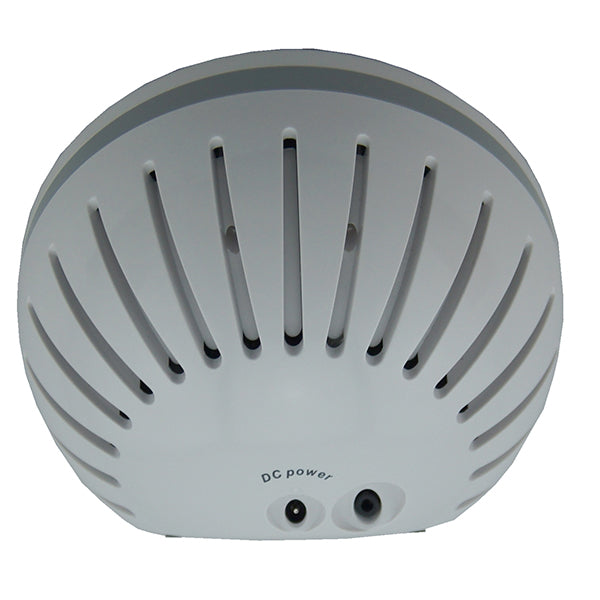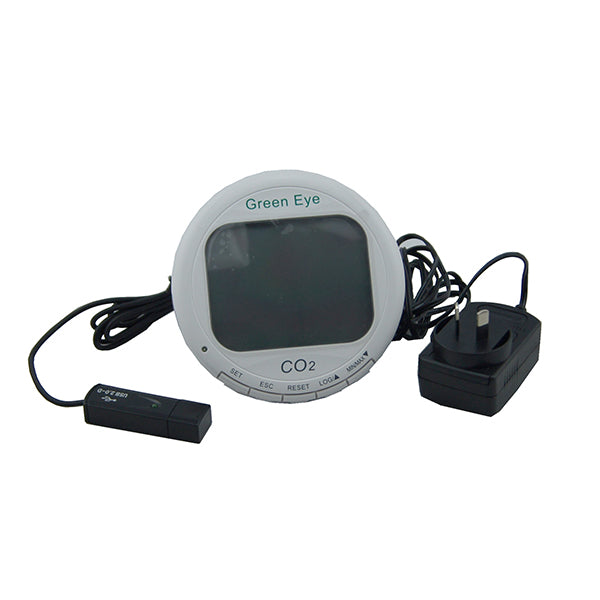 Green Eye CO2 Air Quality Monitor
The monitor is equipped with a large LCD display that displays the CO2 value (with a good, normal, and poor air quality indicator), year-month-date, hour-minute, air temperature as well as relative humidity. The monitor is tilted at an angle of 15 degrees to provide an easy-to-read angle and also displays the real-time date and time. The monitor uses NDIR (non-dispersive infrared) waveguide technology, as well as CO2 automatic background calibration for long-term drift compensation.
Highlighted Features
Advanced CO2 Logger, your best IAQ (Indoor Air Quality) Watcher




Up to 5333 point memory for each parameter




15-degree tilt angle for checking and reading easily




One key touch to activate the logging mode




Real-time clocks and calendars are displayed




Warning carbon dioxide level from 1000-5000 ppm




Super large LCD display CO2 value (with good, normal, poor air quality indicator), Year-Month-Date, Hour-Minute, Air Temp. & Relative Humidity




Max. / Min. Recall Function




The temperature unit is switchable




The real-time clock is adjustable




NDIR (Non-Dispersive Infrared) waveguide tech




CO2 automatic background calibration (called ABC) for Long time drift compensation




Bright LED visible indicates power is on




Audible alarm warns CO2 Air Quality is poor




Monitoring residential, commercial, and home air quality




Easy to connect with PC for data download
Applications
The 7798 AZ indoor air quality data logger could measure indoor air quality, CO2 value, air temperature, and humidity. It also could display the real-time clock and calendar, so the 7798 could be your best IAQ (Indoor Air Quality) Watcher.

Poor indoor air quaintly is considered unhealthy because it causes tiredness, loss of ability to concentrate, and even illness (ex: sick building syndrome). IAQ monitoring and surveys, especially on CO2 level and air ventilation become widely applied in public areas such as offices, classrooms, factories, hospitals, workspaces, residential, commercial buildings, and hotels. It is also suggested in regulations of industrial hygiene in some countries.

The 7798 AZ CO2 Temperature RH Recorder has a super big LCD, which could be used as the CO2 data logger and the real-time monitor of air quality index in all workspaces, offices, hospitals, schools, stations, or homes. The CO2 concentration data could be downloaded to the PC via the USB cable.

Specifications
Model
7798

CO2 Range

0~9999 ppm
(2001~9999 ppm out of scale range)

CO2 Resolution

1 ppm

CO2 Accuracy

±50 ppm ±5% of reading (0~2000 ppm),
other range are not specified

CO2 Response Time

<2 mins (90% step change)

CO2 Warm-up Time

30 Seconds

Air Temperature Range

-10~60℃, 14~140℉

Air Temperature Resolution

0.1℃, 0.1℉

Air Temperature Accuracy

±0.6℃, ±0.9℉

Air Temperature Response Time

<2 mins (90% step change)

Humidity Range

0.1~99.9% RH

Humidity Resolution

0.1% RH

Humidity Accuracy

±3%RH (at 25℃, 10~90%RH);
others ±5%RH

Humidity Response Time

<10 mins (90% step change)

Sampling point

15999 points (5333 points for each parameter)

Sampling rate

1 sec to 4 hr 59 mins 59 sec

LCD Size

60(H)*82(W)mm

Meter Size

120(Diameter) * 80(Depth)mm

Operating Temperature

0~50℃

Operating RH%

5~80% RH (avoid condensation)

Storage Temperature

-20~50℃

Storage RH%

5~90% RH (avoid condensation)

Power Supply

5V DC Adaptor (±10%), ≧500 mA

Weight

~200g

Standard Package

Meter, Manual, 5V Universal Adaptor,
Plain Box, Software CD & Cable