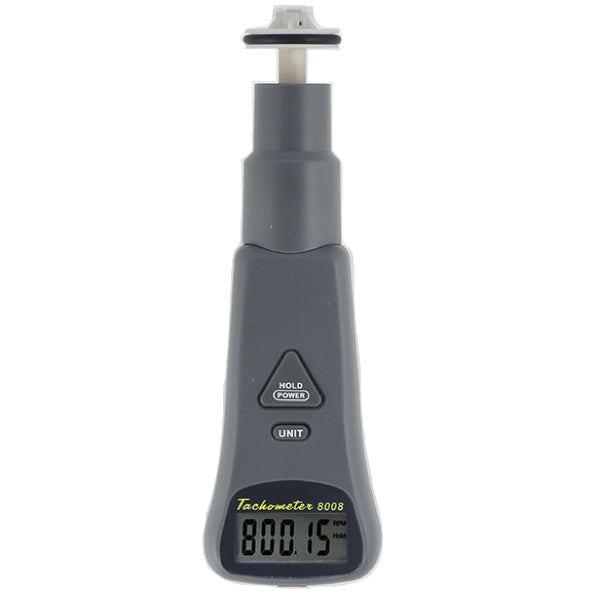 The AZ 8008 Combo Tachometer can measure the rotation speed of a shaft and can be used in the automobile, motor, and machinery industries.
Highlighted Features
Lowest cost contact and non-contact 2-in-1 combo tachometer in the market




Two ways to power on/off




Simple three steps to transform from contact to a non-contact tachometer




Non-contact measurement by red LED beam




Contact rotating objects via convex or concave contact tips




Measure RPM from 10 to 99999 RPM



Auto range function

Affix a reflective tape to the rotating element to measure




Four rotation speed units are switchable in contact mode: rpm, m/min, ft/min, yd/min




Non-Sleep mode & hold function




Auto power off after 20 mins inactivity




Low battery indicator
Application
The 8008 AZ RPM meter (RPM: Revolutions Per Minute), has a way to measure the rotation speed of a shaft, including the motor, truck, machine, engine, automobile, and vehicle industry.

The hand held 8008 AZ tachometer has the read LED beam as the non-contact infrared tachometer and it also can contact the rotating object (ex: spare wheels) directly via the convex or concave contact tips.

Specifications
Model
8008

Non-Contact Rotation Measuring Range

10.0~99999 RPM

Contact Rotation Measuring Range

10.0~19999 RPM

Contact Surface Speed Measuring Range

1.0000~9999.9 M/Min
3.0000~30000 Ft/Min
1.0000~10000 Yd/Min

RPM Unit Resolution

0.001/0.01/0.1/1

M/Min Unit Resolution

0.0001/0.001/0.01/0.1

Ft/Min Unit Resolution

0.0001/0.001/0.01/0.1

Yd/Min Unit Resolution

0.0001/0.001/0.01/0.1

Accuracy

±(0.1% of rdg. +2 digit)

Measure Distance

5~30 cm (non-contact)

Power Consumption

5uA (Idle), 18 mA (measurement)

Time base

4.0 Mhz Quartz Crystal

Sampling time

1 second (>60 RPM)
>1 second (10~60 RPM)

LCD Size

33(L) * 15(W) mm

Operating Temperature

0~50℃

Operating RH%

Humidity <80%

Storage Temperature

-10~50℃

Storage RH%

Humidity <90%

Meter Size

165(L) * 51(W) * 32(H) mm

Weight

~90g

Battery

9V battery *1 PC

Standard Package

Meter, Battery, Manual, Paper Box,
Reflective Tape, Convex Tip, Concave Tip