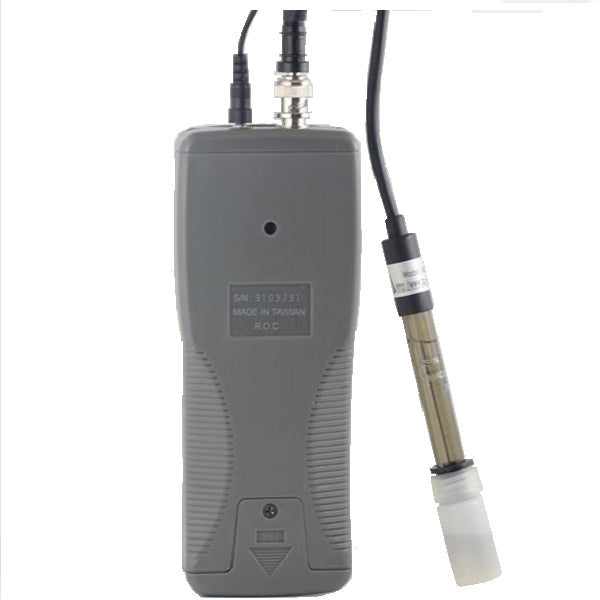 The 8601 AZ pH Meter is your ultimate tool for comprehensive water quality testing, capable of measuring both pH levels and Oxidation-Reduction Potential (ORP) values. This versatile device is an excellent fit for various applications, ranging from laboratory settings to water treatment facilities and swimming pools. Setting up the device is a breeze: simply attach the pH sensor electrode to the BNC port on the top of the unit, and if needed, insert the temperature sensor into the adjacent phone jack port.
AZ Instrument Corp. offers a diverse range of pH probes to complement the 8601 AZ pH Meter. Options include ATC pH probes (Model VZ86P3AZ), standard pH probes without ATC function (VZ86P2AZ), and specialized probes for low-ion strength, all-glass, sharp-tip, and flat-surface applications (VZ86P4AZ, VZ86P6AZ, VZ86P7AZ, and VZ86P1AZ, respectively).
For those looking to conduct extended testing, the meter can be powered via a 9VDC adapter and conveniently mounted on a tripod. Additional features include PC connectivity through a USB port, allowing for real-time data capture and display of pH, mV, ORP, and temperature readings. The device's versatile data management capabilities enable users to easily save and analyze data, making it perfectly suited for a variety of professional measuring needs, including labs, water treatment businesses, aquaculture, and swimming pools.
Designed and manufactured by the experienced team at AZ Instrument, the 8601 AZ pH Meter sets the standard for reliable and professional water quality measurement.
Specifications
Model

8601

pH Measuring Range

0.00~14.00

pH Accuracy

±0.02

pH Resolution

0.01

mV Measuring Range

-499~499 mV

mV Accuracy

±0.2 mV (±0.1~195.0) or ±2 mV (±190~499)

mV Resolution

±0.1 mV (±0.1~195.0) or ±1 mV (±190~499)

Temperature Measuring Range

0~60.0℃

Temperature Accuracy

±0.3℃

Temperature Resolution

0.1℃

ATC

ATC

pH Calibration

Up to 3 points

Compatible Probe

VZ86P3AZ: ATC pH probe
VZ86P2AZ: pH probe without ATC function
VZ86P4AZ: Low Ion pH probe w/o ATC function
VZ86P6AZ: Full glass pH probe without ATC function
VZ86P7AZ: Sharp tip pH probe without ATC function
VZ86P1AZ: Flat surface pH probe without ATC function

LCD Size

50(L) * 29(W) mm

Operating Temperature

0~50℃

Operating RH%

Humidity <80%

Storage Temperature

-10~50℃

Storage RH%

Humidity <90%

Sensor Life Time

>6 months (with good maintenance)

Meter Size

182(L) * 72(W) * 30(H) mm

Weight

~150g

Battery

9V *1 PC

Standard Package

Meter, Batteries, Manual, Carry Case, Calibration Solution

Optional Accessory

USB Cable & Software, Rubber Boot Holster
Highlighted Features
 Integrated pH and mV measurements in one

One-touch auto-calibration up to 5 points




Calibration values are adjustable




Dual display pH / mV & Temperature




pH automatic buffer recognition to avoid errors during calibration




Max./Min review of memorized data




USB connection to PC for analysis




Could be powered by an adaptor for long-time use




Auto power off to save battery power
Applications
In what environment does this instrument operate?
The AZ 8601 pH Measuring Device includes the aquaculture industry, aquafarming, laboratory, swimming pool or water treatment business, and other related industries, whether fresh or seawater.
What measurements does this instrument support?
The AZ 8601 pH Measuring Device supports pH and ORP measurements.