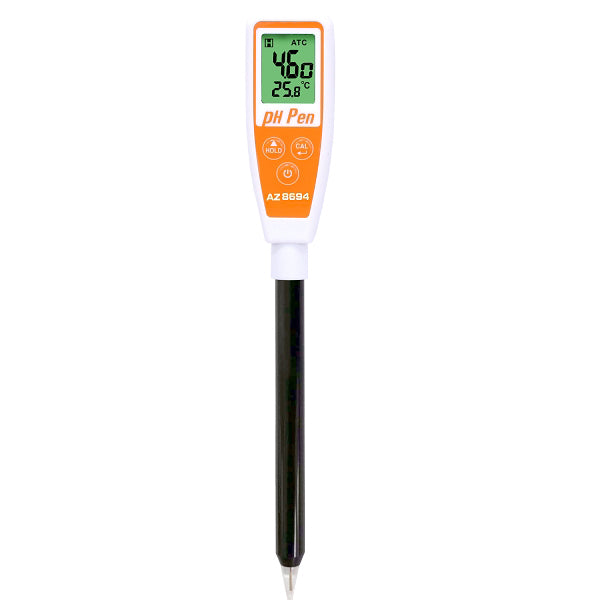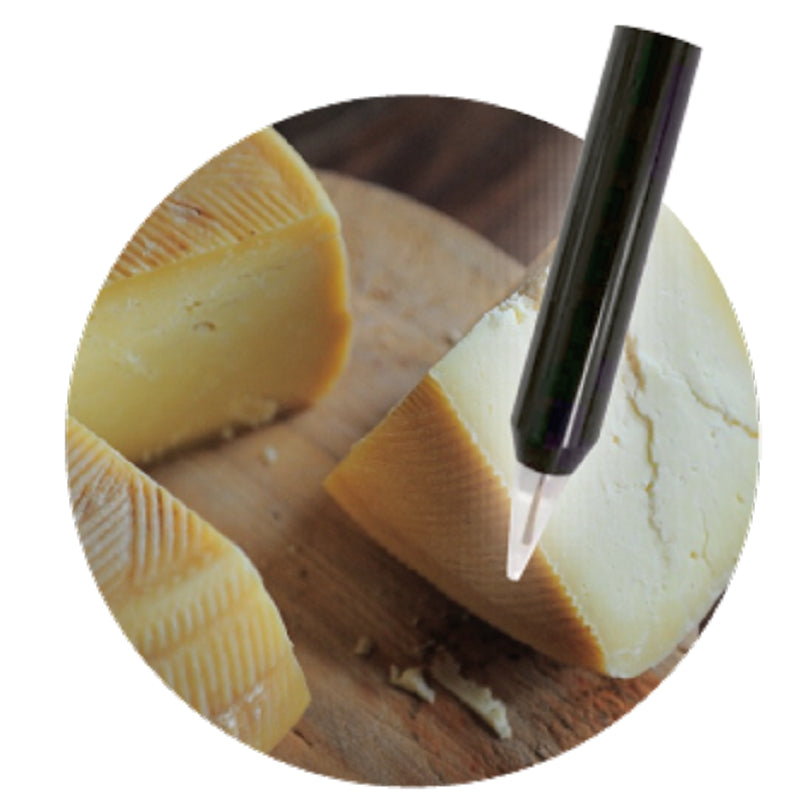 Sharp Long Probe pH Meter
This pH pen has an IP65 rating and displays real-time pH and temperature on its large LCD display, and has a stability indicator. This handheld instrument has one-touch auto-calibration for up to 3 points, and calibration values can be adjusted. 
Highlighted Features
IP65 Waterproof housing




13.2 cm long pH probe




Big and clear LCD provides real time pH and Temperature display




Dual display with ATC




Measuring stability indicator




One touch for auto-calibration up to 3 points




Calibration values are adjustable




Hold function to freeze the current reading




Compact size, easy to fit in a pocket




Low battery indicator




Auto power off




C/F unit switchable




Power by 2 pcs CR2032 batteries




Storage bottle to keep pH sensor wet & last lifetime
Applications
The 8694 AZ pH Meter has a 13.2 cm long pH probe with a Sharp tip electrode, which could be inserted into the container with a narrow opening size more easily than other pH Meter. It has the waterproof IP65 function, and it can measure the pH value from 2~12 to meet different Water Quality Testing applications.

The pH sensor electrode of 8694 AZ Long Tube Sharp Tip pH Pen is protected/storage in a bottle, which could keep the pH sensor wet. The 8694 AZ Long Tube Sharp Tip pH Pen can be calibrated easily by one touch calibration function.

The 8694 AZ Long Tube Glass Sharp Tip pH Pen has big and clear LCD to show the real time pH and temperature value. The sharp tip pH electrode of 8694 AZ can be met with the water solution pH measuring purposes of dairy, meat, milk, sushi rice, semi-solid foods, yogurt or other food treated processing industry testing object.

Specifications
| | |
| --- | --- |
| Model | 8694 |
| pH Measuring Range | 2.00~12.00 |
| pH Accuracy | ±0.1 |
| pH Resolution | 0.01 |
| Temperature Measuring Range | 0~80.0℃ |
| Temperature Accuracy | ±1℃ |
| Temperature Resolution | 0.5℃ |
| pH Electrode Material | Glass |
| Reference | Single Ag/AgCl |
| Junction / Flow Rate | Fiber |
| Electrolyte | Gel. 3.3 M KCl |
| pH Sensor Tip Shape | Sharp Tip |
| pH Probe Diameter | 12 mm |
| pH Probe Length | 132 mm |
| ATC | ATC |
| pH Calibration | Up to 3 points |
| LCD Size | 29(L) * 22.5(W) mm |
| Operating Temperature | 0~80℃ |
| Operating RH% | Humidity <80% |
| Storage Temperature | -10~50℃ |
| Storage RH% | Humidity <90% |
| Sensor Life Time | >6 months (with good maintenance) |
| Meter Size | 94(L) * 36(W) * 20(H) mm |
| Weight | ~115g |
| Battery | CR2032 *2 PCS |
| Standard Package | Meter, Batteries, Manual, Paper Box |