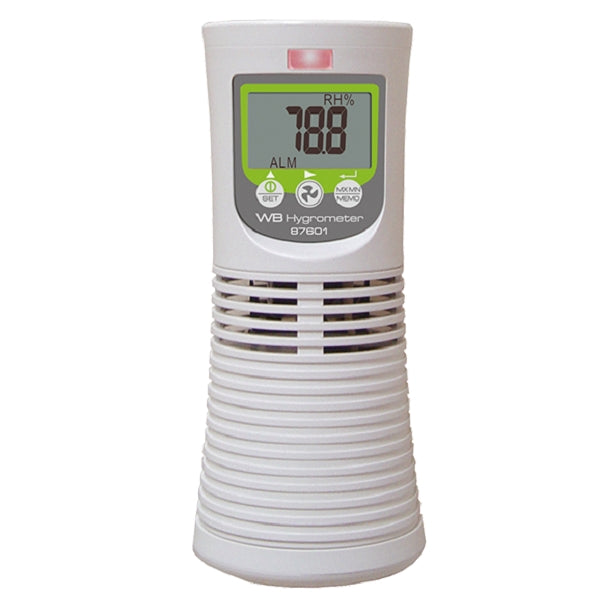 The AZ 87601 Humidity Recorder features a large, easy-to-read LCD display, and two thermistor-type sensors in order to retrieve accurate and quick temperature and humidity readings.
Highlighted Features
Easy-to-read big LCD display




Designed with two Thermistor type sensors to get accurate and quick temperature & humidity readings by the dry bulb and wet bulb principle




Built-in fan to speed up the response time to 2 mins




Temperature and humidity high/low alarm setting is available




Temperature units C/F selectable




Dual-colour LED indicator for logging and alarm




Maximum/minimum, Hold functions




Battery low indicator




8000 points auto-logging memories




8000 points memory could be downloaded to PC for analysis




Auto logging sampling rate selectable




Excellent for a greenhouse, high humidity, harsh and dusty environment




Condensation caused by water, pesticide, fertilizer spray, and dust scrap has a very limited effect on humidity reading




Humidity self-calibration is not necessary
Applications
The 87601 AZ Hygrometer is designed with combined the traditional dry & wet bulb method and modern electronic circuit technology. There is no humidity sensor in the 87601 AZ Humidity Meter, so you don't have to worry about condensation & dust scratch problems. The meter is powered by either 4pcs AAA batteries or a 5V adaptor. It is suggested to use an adaptor when doing long-time monitoring since the built-in fan is high power consumption. It could be your best tool for a greenhouse or other high-humidity, harsh, and dusty environment.

The 87601 AZ Wet & Dry Bulb Hygrometer can do auto data recording for a long time monitoring up to 8000 records. It could link with the personal computer via a USB cable to capture online or stored data. Users can retrieve files, save the data for further analysis, check record statistics, etc. The sampling rate and real-time clock setting should be done through the meter keypad directly.

Specifications
Model
87601

Temperature Range

5~50℃

Temperature Resolution

0.1℃, 0.1℉

Temperature Accuracy

±0.6℃

Humidity Range

0.1~99.9% RH

Humidity Resolution

0.1% RH

Humidity Accuracy

±3%RH (at 25℃ 10~100%RH); others ±5%RH

Response Time

120 Seconds Typical

LCD Size

40(L) * 25(W) mm

Memory

8000 points

PC Download

YES

Operating Temperature

5~50℃

Operating RH%

Humidity <100%

Storage Temperature

0~50℃

Storage RH%

Humidity <80%

Water Tank Refill Time

Every Two Weeks

Meter Size

178.5(L) * 48.4(W) * 24.7(H) mm

Weight

~250g

Battery

AAA * 4 PCS or 5V Adaptor

Standard Package

Meter, Water Tank, Batteries, Manual,
Paper Box, Cotton Thread

Optional Accessory

5V Universal Adaptor, USB software cable & CD