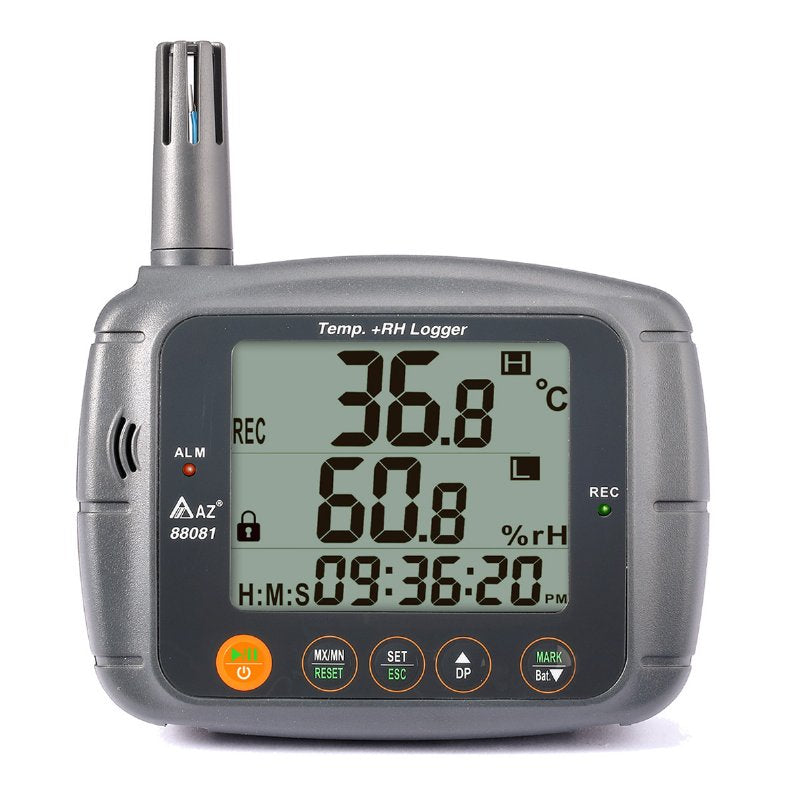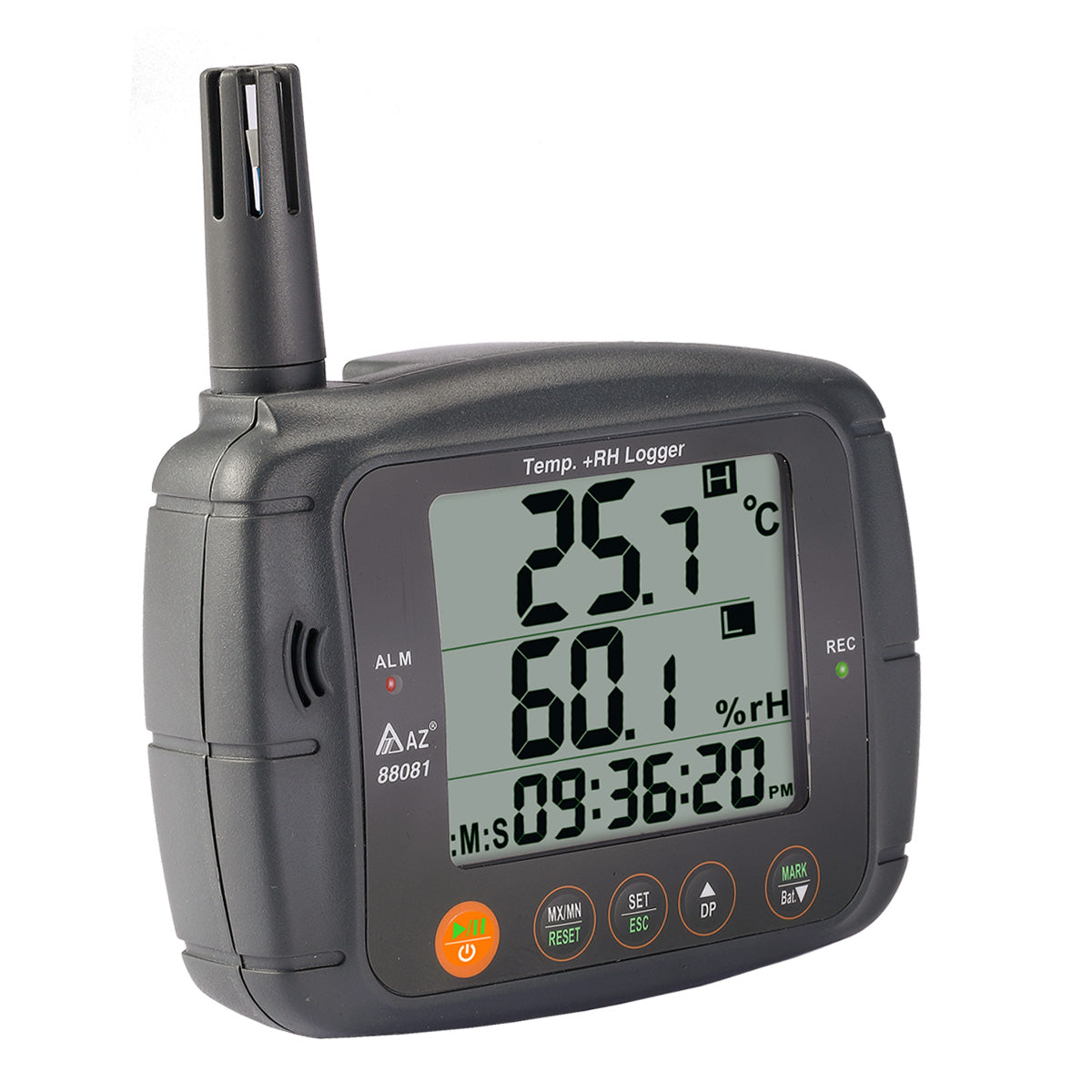 Temp/RH Thermo Hygrometer Data Logger
The 8808 AZ Humidity Monitor Recorder can measure and record the temperature and relative humidity and has a big LCD display.
Highlighted Features
Keypad and PC programming are both feasible

Plug and play, USB driver, and software are not required




Dew point temperature to check mold growing risk




Automatically generate statistic reports to ease your work




High-accuracy humidity and temperature measuring




Monitoring and logging both can be powered up by batteries and a power adaptor




LED flash& audible buzzer warning threshold are programmable.




Available in both monitoring and logging




The salt bottle self-calibration function is integrated




A very useful tool for indoor temperature monitoring and control




Wall mountable super large monitor display
Applications
The 88081 AZ USB Monitor can measure and record the Temperature and Relative Humidity. The user could set up a data logger and generate PDF or Excel reports without any software. It has a big LCD and audible buzzer with LED flash, which would be your best partner for monitoring and recording the temperature.

The 88081 AZ Thermo Hygrometer USB Data Logger can be your best tool as the wall-mounted indoor air quality monitor. It could be used as the temperature and humidity monitor for warehouses, workspaces, laboratories, basements, wine cellars, or other controlled environments.

The 88081 AZ Temperature Humidity USB Recorder was being designed and manufactured by AZ Instrument, a well-experienced manufacturer of Environmental Measuring instruments.
 Specifications

Model
88081

Temperature Range

NTC Thermistor -30~70℃, -22~158℉

Temperature Resolution

0.1℃, 0.1℉

Temperature Accuracy

±0.5℃

Humidity Range

Capacitor 0.1~99.9% RH

Humidity Resolution

0.1% RH

Humidity Accuracy

±3%RH (at 25℃ 10~90%RH, others ±5%RH)

Dew Point Range

-85.2~70.0℃

Dew Point Resolution

0.1℃, 0.1℉

USB Interface

YES,  USB 2.0 plug & play

Sampling Points

Temp.: 24K & Humidity: 24K

Meter Size

120(L) * 93(W) * 42(H) mm

LCD Size

63(W) * 51(H) mm

Operating Temp.

-20~70℃
(but the probe can measure down to -30℃ )
Room Tmp. (PC mode)

Operating RH%

Humidity <90%

Storage Temp.

-20~50℃

Storage RH%

Humidity <90%

Weight

~200g

Battery

AA*4PCS or 9V DC Adaptor
3 months lifetime (alarm function OFF)
2 months lifetime (alarm function ON)

Sampling interval

30 seconds, 5, 10, 30, 60, 90, 120 minutes

Start delay

0, 5, 30, 45, 60, 90, 120 minutes & 24 hr

Alarm range

Programmable from -20 to 70

℃

 
and 0.1 to 99.9 %RH

Alarm delay

0, 5, 30, 45, 60, 90, 120 minutes

Alarm type

Single Event, Cumulative, Disable

Operation Keys

5 Keys

LED Indicator

REC, High / Low alarm

Standard Package

Logger, AA batteries, manual, 
Paper Box, Soft CD, USB Cable

Optional Accessory

RH Calibration Salt Kit
9VDC universal adaptor