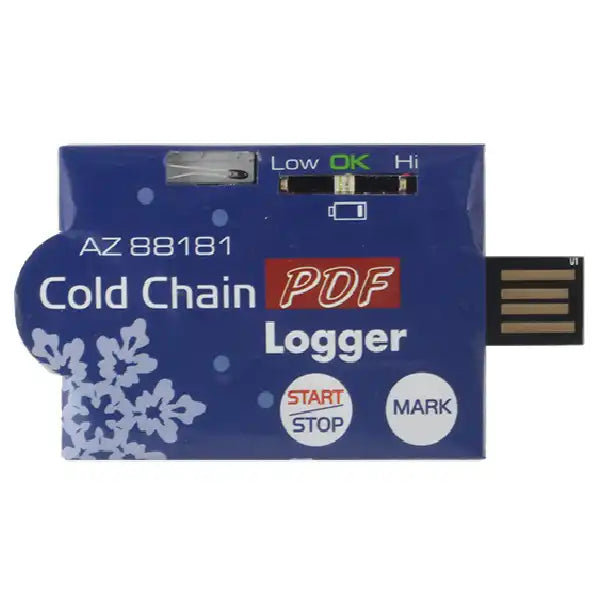 Single-Use USB Temperature Data Logger
This single-use data logger is a plug & play device, meaning that logger-specific software and USB drivers are not required. The 4 LEDs provide instant indicators: REC, Low Bat., and High/Low-temperature alarm. Data integrity is secured using file-encrypted technology.
Highlighted Features
Single-use: avoid the possibility of cross-contamination




Accurate Temperature sensor




Plug & play USB 2.0 interface, without any software




Generating a PDF report automatically when plugged into a PC




The PDF report includes the summary, graph, and details of temperature data




Easy program for sampling rate, start delay, temperature unit, password, company name, alarm types, High/Low alarm




IP65 waterproof bag could provide the moisture barrier properties of a data logger




Mark function for special moments would like to record or track later




Meet with EN12830, RoHS, RTCA DO-160EF, airfreight safety approved by Emirates Sky Cargo




Best monitoring tool for cold chain transportation requirements (GDP).
Applications
The 88181 AZ Low-Temperature Tracking Data Logger can measure and record the Temperature value, and generate PDF report automatically. This logger has the file encrypted technology to secure data integrity, which would be met with the requirement in Cold Chain Supply Industry (orchid, flowers, seafood, food processing products, perishable foods), Health and Pharmaceutical industry, hospital or lab.

The 88181 AZ Logistic Thermo Data logger has packed into an IP 65 waterproof bag, so it could operate in the low temperature environment from -30 to 70 degree C. 

The 88181 AZ Single use data logger can be met with the temperature tracking or monitor purpose during the cold chain transportation or other logistic traceable procedures for the vaccines, biological, pharmaceuticals and other perishable & temperature sensitivity products.

Specifications
| | |
| --- | --- |
| Model | 88181 |
| Temperature Range | NTC Thermistor, -30~70℃, -22~158℉ |
| Temperature Resolution | 0.1℃, 0.1℉ |
| Temperature Accuracy | ±0.5℃ |
| Logging Type | Single-Use |
| Logger with Bag | 105(L) * 55(W) * 2.5(H) mm |
| Logger without Bag | 80(L) * 43(W) * 2.5(H) mm |
| Sampling Points | 8192 readings |
| Shelf Life | 12 months shelf time |
| Operating Temperature | -30~70℃ (Logging Status); Room Temp. (PC Mode) |
| Operating RH% | Humidity <90% |
| Storage Temperature | -40~85℃ |
| Storage RH% | Humidity <90% |
| Weight | ~10g |
| Battery | 1PC 3.0V CR2032 (installed before shipment) |
| Sampling Interval | 30 seconds, 5, 10, 30, 60, 90, 120 minutes |
| Start Delay | 0, 5, 30, 45, 60, 90, 120 minutes |
| Alarm Range | -20~-10℃, -10~0℃, 2~8℃, 0~15℃, 15~25, others |
| Alarm Delay | 0, 5, 30, 45, 60, 90, 120 minutes |
| Alarm Type | Single Event, Cumulative, Disable |
| Operation Keys | 2 Keys (Start/Stop Key & Mark Key) |
| LED Indicator | REC, Low Battery, High /Low Alarm |
| Standard Package | 10 PCS Logger in One Box, Manual, Paper Box |