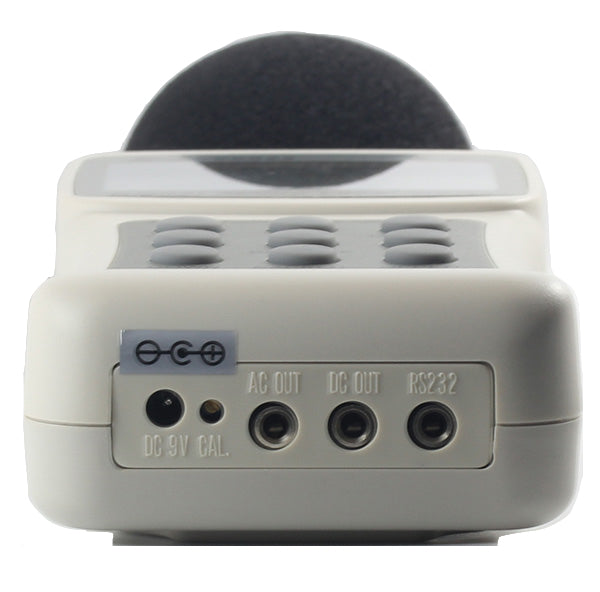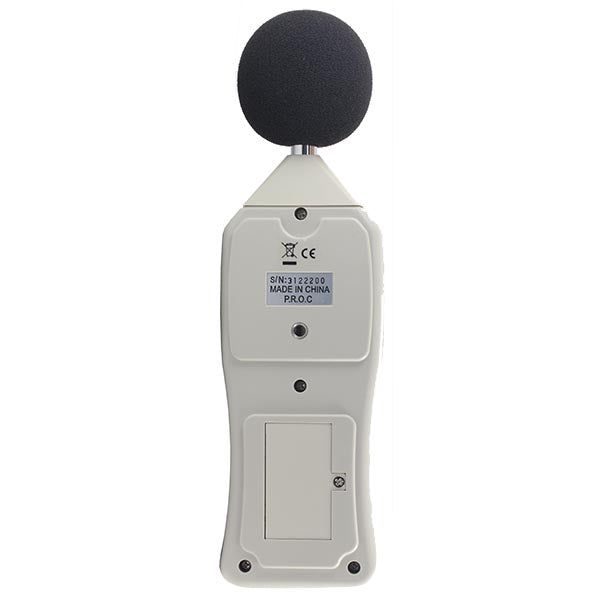 Digital Sound Level Meter
This affordable sound level meter has a large LCD display and a unique background noise absorber. It features a digital display and analog bar graph as well as auto/manual ranging and has 6 measurement ranges in 10 steps. This device also features max hold and fast/slow response mode and A/C weighting is selectable. 
Highlighted Features
Meets IEC60651, type 2 class standard




Deluxe super large LCD display with affordable price




Easy to calibrate by using AZ 8930 sound calibrator




Unique background noise absorber




Features with digital display and analog bar graph




Auto/manual range, 6 measurement range in 10 steps




Max Hold and Fast/Slow response mode




A/C weighting is switchable




AC/DC analog output




USB Interface
Applications
The Professional 8922 AZ Sound Level Meter provides automatic or manual range in six measurement ranges from 30 to 130 dB. The unit meets ANSI S1.4 and IEC60651, type 2 class standards, and features 0.1 dB resolution.

A background noise absorber of 8922 AZ SLM permits users to measure sound levels accurately even in the presence of high background noise. And it has a backlight function, which could let users operate in dark areas.

The 8922 AZ Sound Level Meter allows users to select between fast and slow response times as well as A&C weighting. Jacks on the meter provide both AZ and DC analog output.

The portable 8922 AZ Noise Level Meter can be used for acoustic (sound that travels through the air) measurements, which had been widely used in HVAC (Heating, Ventilation, and Air Conditioning) and industrial-related applications. A user could capture sound-level data via the USB interface.
Specifications
Model
8922

Measure Range

A weight: 30~130 dB
C weight: 35~130 dB

Digital Display (6 ranges)

30~80, 40~90, 50~100, 60~110, 70~120, 80~130 dB

Digital Display Resolution

0.1 dB

Digital Updating Time

160 ms

Quasi-analog Bar (6 ranges)

30~80, 40~90, 50~100, 60~110, 70~120, 80~130 dB

Quasi-analog Resolution

1 dB

Bar Updating Time

40 ms

Accuracy at 94 dB, 1KHz

±1.5 dB

Analog Output

AC 0.707 Vrms (at full scale): DC 10 mV/dB

Microphone

Dia 6mm electric condenser microphone

Frequency Range

31.5 Hz~8 kHz

Battery Life Time

30 hours typical

Windscreen

YES

LCD Size

62(L) * 42(W) mm

LCD Backlight

YES

Operating Temperature

0~50℃

Operating RH%

Humidity <80%

Storage Temperature

-20~50℃

Storage RH%

Humidity <90%

Meter Size

254(L) * 77(W) * 37(H) mm

Weight

~200g

Battery

9V Battery * 1 PC or 9V DC adaptor

Standard Package

Meter, Battery, Manual, Carry Case

Optional Accessory

Software CD & USB Cable