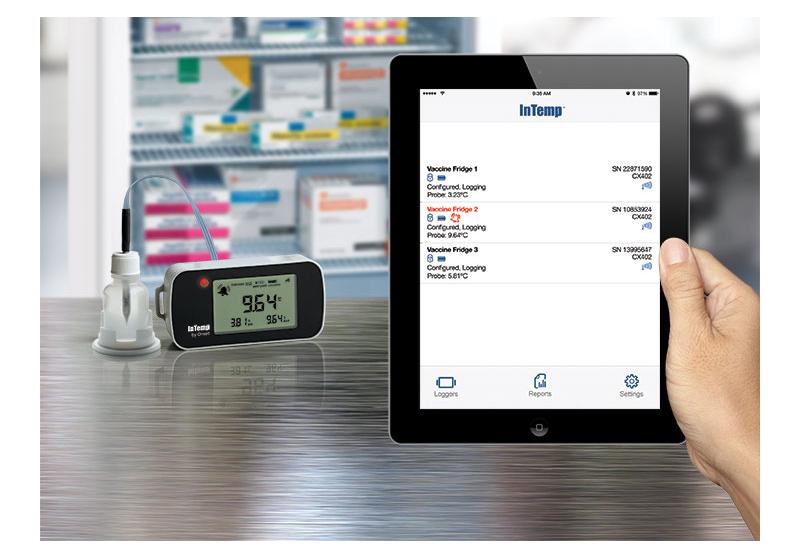 CX402 Temp Bluetooth Data Logger w/ Glycol Bottle
Variants:
2M Probe with 5ml Glycol Bottle
InTemp CX402-Txxx (with Glycol Bottle) data loggers monitor temperatures in refrigerators, freezers, and other temperature-controlled environments to comply with global GDP requirements. The loggers communicate wirelessly via Bluetooth to mobile devices.
Using the InTemp app, you can easily view data, check logger status, set alarms, and create and share secure PDF reports for streamlined reporting and regulatory compliance.
All loggers feature a built-in LCD display to view current and daily min and max temperatures, advanced audible and visual alarm capabilities for notification of temperature excursions, an internal sensor for ambient temperature monitoring, and a single-point NIST Certification of Calibration for both the logger body and probe.
Documentation
Highlighted Features
Integrates with mobile and cloud platforms for a 21 CFR Part 11 compliant solution
Easy-to-read display with current and daily min/max temperatures
Bluetooth transmission of data and alarm states
Logger setup and download of data in seconds – without a PC or cable
Real-time alerts and automatic data downloads with optional

 

CX Gateway device
+/- 0.5C accuracy for reliable temperature readings
Battery-powered to guard against local power loss
Several Glycol bottle/probe-only options are available

Includes 1-year NIST calibration, per USP guidelines
Who is this for?
The InTemp CX402-Txxx data logger (with probe in glycol) is right for you if:
You work for an organization that's required to primarily follow GDP/GMP, FDA, USP, and/or EU/CE guidelines for monitoring ambient to frozen temperatures
Your organization is a pharmaceutical manufacturer, third-party logistics company, Life Science/Biotech storage and transportation company, or other organization looking to monitor temperature-sensitive goods
You need a 1-Year NIST-certified data logger (probe and ambient temperature sensor), as recommended by the previously mentioned regulatory bodies
Required to follow GDP & GMP requirements, specifically:
Probe in glycol
GDP/GMP compliant
Frozen to ambient monitoring
Specifications
Table 1: External Temperature Probe
Specification
Value
Accuracy
±1.0°C from -40° to -25°C
±1.8°F from -40° to -13°F
±0.5°C from -25° to 80°C
±0.9°F from -13° to 176°F
±1.0°C from 80° to 100°C
±1.8°F from 176° to 212°F
Resolution
0.024°C at 25°C
0.04°F at 77°F
NIST Calibration
CX40x-Txx and CX402-BxM: Single-point NIST calibration, probe and logger body
CX40x-VFCxxx: Single-point NIST calibration, probe only
CX403: Single-point NIST calibration
Cable Length
2 or 4 meters (6.56 or 13.12 feet) flat ribbon cable
Probe Dimensions
Food-grade stainless steel probe with pointed tip, 53.34 mm (2.1 inches) long, 3.18 mm (0.125 inches) diameter
Table 2: Temperature Sensor
Specification
Value
Range

-30°C to 70°C
-22°F to 158°F


Accuracy

±0.5°C from -15° to 70°C 
±0.9°F from 5° to 158°F
±1.0°C from -30° to -15°C
±1.8°F from -22° to 5°F

Resolution
0.024°C at 25°C <br> 0.04°F at 77°F
Table 3: Logger
| Specification | Value |
| --- | --- |
| Radio Power | 1 mW (0 dBm) |
| Transmission Range | Approximately 30.5 m (100 ft) line-of-sight |
| Wireless Data Standard | Bluetooth Low Energy (Bluetooth Smart) |
| Logger Operating Range | -30°C to 70°C, 0 to 95% RH (non-condensing) <br> -22°F to 158°F, 0 to 95% RH (non-condensing) |
| Logging Rate | 1 second to 18 hours |
| Battery Type | Two AAA batteries, user replaceable |
| Battery Life | 1 year, typical with logging interval of 1 minute. Faster logging intervals, remaining connected with the InTemp app, excessive report generation, numerous audible alarms, and paging all impact battery life. |
| Memory | 128 KB (84,650 measurements, maximum) |
| Full Memory Download Time | Approximately 60 seconds; may take longer the farther the device is from the logger |
| LCD | LCD is visible from 0°C to 50°C (32°F to 122°F); the LCD may react slowly or go blank in temperatures outside this range |
| Dimensions | 9.4 x 4.5 x 2.59 cm <br> 3.7 x 1.77 x 1.02 inches |
| Weight | 90.2 g (3.18 oz) |
| Environmental Rating | IP54 |