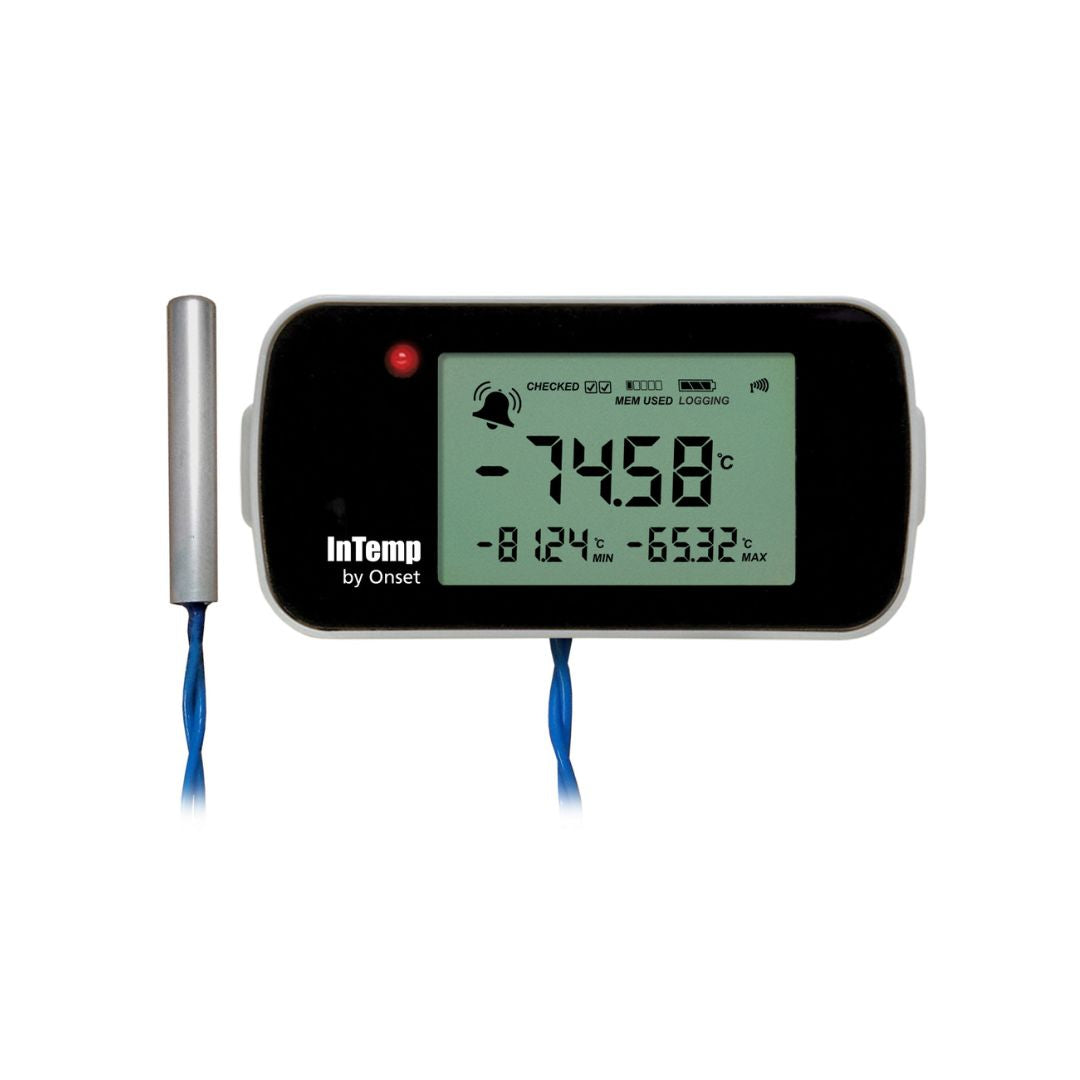 CX405 Dry Ice Data Logger
The InTemp CX405-RTD Dry Ice data logger is specifically designed for ultra-low temperature monitoring of vaccines and pharmaceuticals in storage and transportation environments. Using Bluetooth technology, it wirelessly communicates with the InTemp CX Gateway and/or the free InTemp mobile app, which send data to the free InTempConnect cloud platform. Its built-in 1.5 m external probe can measure temperatures as low as -95°C (-139°F) and up to 50°C (122°F) with a high degree of accuracy, and a protective sheath prevents accidental cutting of the probe cable. Includes a clip for secure mounting.
This dry ice data logger also features a built-in LCD display to view temperature readings, visual and audible alarms, and battery level – plus the ability to view and display the minimum and maximum readings.
Documentation
User Manual

Quick Start Guide
Highlighted Features
• Two-point NIST Certificate of Calibration (probe only), good for one year
• Integrates with mobile and cloud platforms for a 21 CFR Part 11-compliant solution
• Easy logger setup and data download in seconds
• Advanced audible and visual alarm capabilities for notification of temperature excursions
• LCD display with current and daily min/max temperatures
• Protective, anti-cut cable sheath
• User-replaceable AAA batteries to guard against local power loss
• Built to FDA, USP, EU, and WHO standards
• Free InTemp mobile app to configure logger, view data, and access the free InTempConnect cloud software service
• Real-time alerts and automatic data downloads with optional InTemp CX Gateway  device
Specifications
| Specification | Value |
| --- | --- |
| Range | -95°C to 50°C <br> -139°F to 122°F |
| Accuracy | ±1.5°C from -95° to -40°C <br> ±2.7°F from -139° to -40°F <br> ±1.0°C from -40° to -10°C <br> ±1.8°F from -40° to 14°F <br> ±0.5°C from -10° to 50°C <br> ±0.9°F from -14° to 122°F |
| NIST Calibration | Two-point NIST calibration, probe only |
| Cable Length | 1.5m (4.92 ft) |
Table 2: Internal Temperature Sensor
| Specification | Value |
| --- | --- |
| Range | -30°C to 70°C <br> -22°F to 158°F |
| Accuracy | ±0.5°C from -15° to 70°C <br> ±0.9°C from 5° to 158°F <br> ±1.0°C from -30° to -15°C <br> ±1.8°F from -22° to 5°F |
| Resolution | 0.024°C at 25°C <br> 0.04°F at 77°F |
Table 3: Logger
| Specification | Value |
| --- | --- |
| Radio Power | 1 mW (0 dBm) |
| Transmission Range | Approximately 30.5 m (100 ft) line-of-sight |
| Wireless Data Standard | Bluetooth Low Energy (Bluetooth Smart) |
| Logger Operating Range | -30°C to 70°C <br> -22°F to 158°F, 0 to 95% RH (non-condensing) |
| Logging Rate | 1 second to 18 hours |
| Battery Type | Two AAA batteries, user replaceable |
| Battery Life | 1 year, typical with logging interval of 1 minute. Faster logging intervals, remaining connected with the app, excessive report generation, numerous audible alarms, and paging all impact battery life. |
Applications
In what environment does this logger operate?
This data logger operates in an indoor cold chain environment.