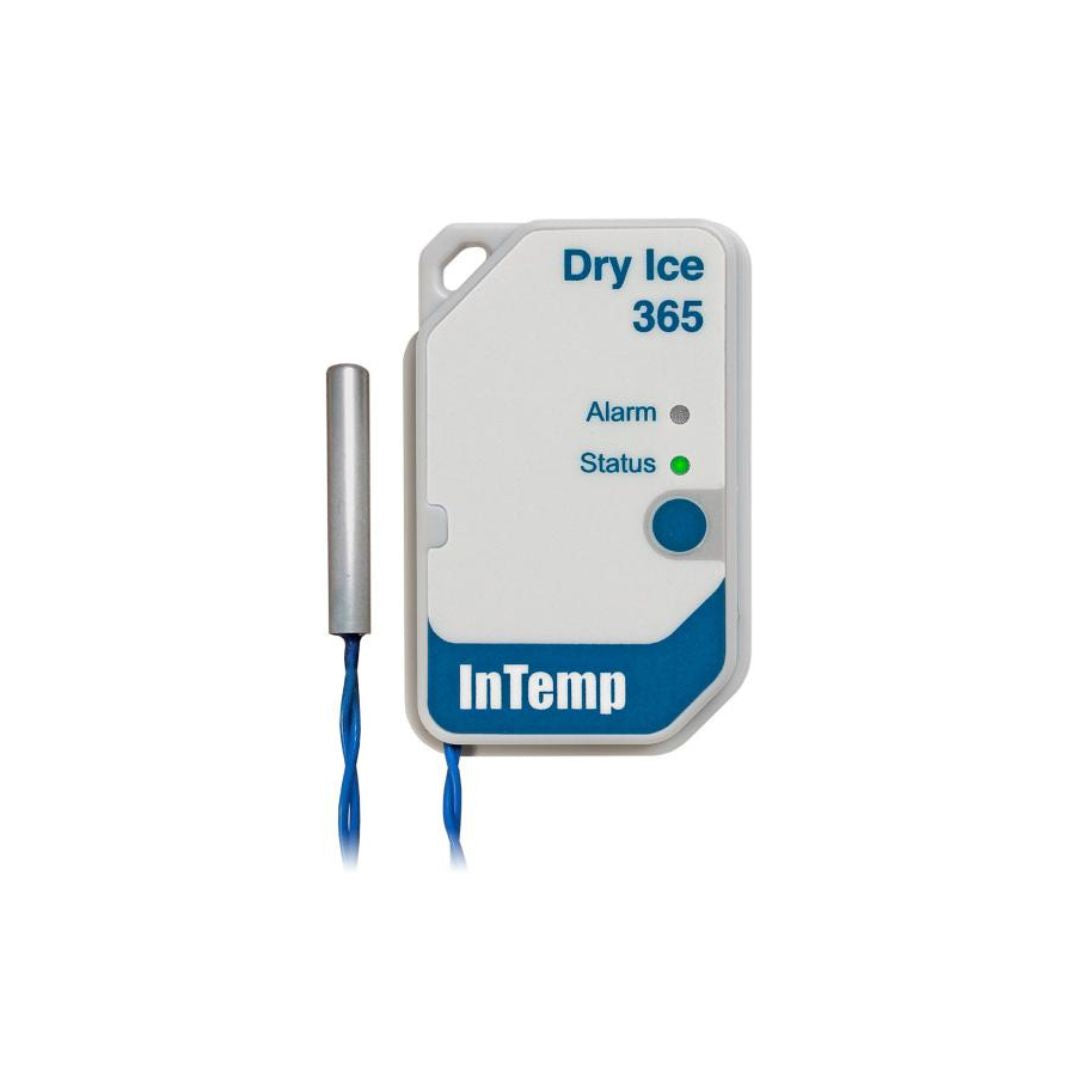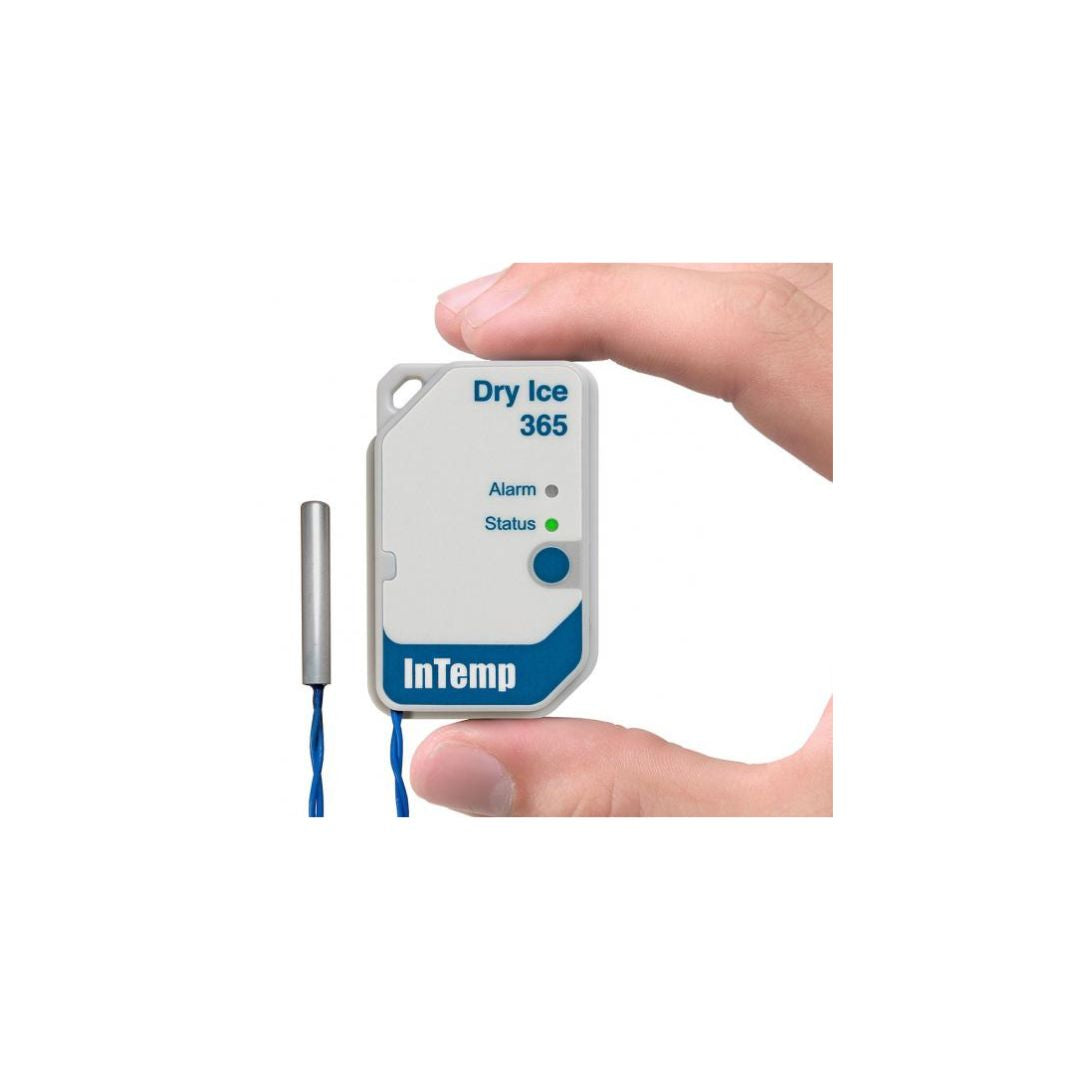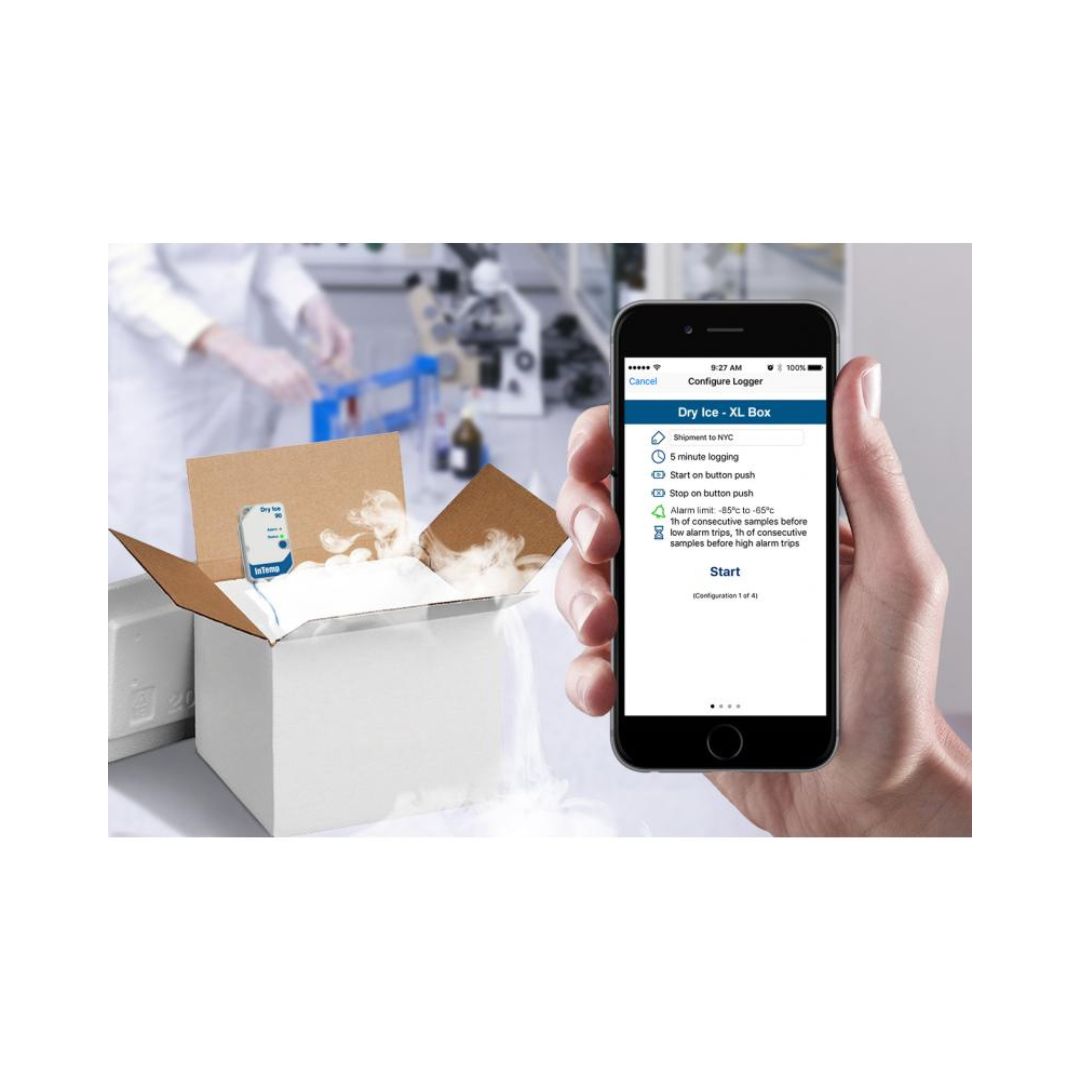 CX602/3 Dry Ice Data Logger
Do you need the CX602 or CX603?:
CX603: Multiple-use
The InTemp CX602 and CX603 Dry Ice data loggers are Bluetooth-enabled devices that record temperature data. These loggers come equipped with a built-in 1.5m probe that measures temperatures as low as -95°C (-139°F), along with a protective sheath to prevent accidental cutting of the cable and a clip for secure mounting.
The CX602 is a single-use logger with a recording period of up to 90 days, while the CX603 is a multiple-use logger that can record temperature data for up to 365 days. Both loggers can be easily configured with one of multiple preset configurations, or set up with a custom configuration using the InTemp® app on your mobile device.
These loggers feature a built-in alarm to alert you to temperature excursions. Logger reports can be quickly downloaded to your phone or tablet and uploaded to an InTempConnect® account, where you can analyze and export data as needed.
With the optional CX Gateway, you can receive real-time notifications of temperature excursions and automatically download data from loggers within the range of the device. To learn more about the functionality of the CX Gateway, please refer to the InTemp CX Gateway guide.
Documentation
User Manual

Quick Start Guide

Highlighted Features
IATA Battery compliant
3-Point NIST Certificate of Calibration, valid for one year from the date of purchase
Anti-cut sheath
Integrates with mobile and cloud platforms for a 21 CFR Part 11 compliant solution
Compact and lightweight – ideal for shipping pharmaceuticals
No need to open containers to access data
Ensures secure data via encrypted technology
Specifications
Specification
CX603

CX602

Sensor Range
-95°C to 50°C (-139°F to 122°F)
-95°C to 50°C (-139°F to 122°F)
Accuracy

±1.5°C from -95° to -40°C (±2.7°F from -139° to -40°F) 

±1.0°C from -40° to -10°C (±1.8°F from -40° to 14°F) 

±0.5°C from -10° to 50°C (±0.9°F from -14° to 122°F)

±1.5°C from -95° to -40°C (±2.7°F from -139° to -40°F) 

±1.0°C from -40° to -10°C (±1.8°F from -40° to 14°F) 

±0.5°C from -10° to 50°C (±0.9°F from -14° to 122°F)

Resolution
0.013°C at 25°C (0.023°F at 77°F)
0.013°C at 25°C (0.023°F at 77°F)
NIST Calibration
Three-point NIST calibration, probe only
Three-point NIST calibration, probe only
Cable Length
1.5 m (4.92 ft)

1.5 m (4.92 ft)

Probe Dimensions
Food-grade stainless steel probe with blunt tip, 31.75 mm (1.25 inches) long, 4.78 mm (0.188 inches) diameter
Food-grade stainless steel probe with blunt tip, 31.75 mm (1.25 inches) long, 4.78 mm (0.188 inches) diameter
Logger Operating Range
-30°C to 50°C (-22°F to 122°F)
-30°C to 50°C (-22°F to 122°F)
Radio Power
1 mW (0 dBm)
1 mW (0 dBm)
Transmission Range
Approximately 30.5 m (100 ft) line-of-sight
Approximately 30.5 m (100 ft) line-of-sight
Wireless Data Standard
Bluetooth Low Energy (Bluetooth Smart)
Bluetooth Low Energy (Bluetooth Smart)
Type
Multiple uses
Single-use
Duration
365 days
90 days
Shelf Life
Up to 1 year
Up to 1 year
Logging Rate
1 second to 18 hours
1 second to 18 hours
Battery
CR2450 3V lithium, not replaceable. Battery life varies based on the model.
CR2450 3V lithium, not replaceable. Battery life varies based on the model.
Memory
16,000 measurements
16,000 measurements
Full Memory Download Time
Approximately 30 seconds; may take longer the farther the device is from the logger
Approximately 30 seconds; may take longer the farther the device is from the logger
Dimensions
6.9 x 4.5 x 1.1 cm (2.71 x 1.76 x 0.42 inches)
6.9 x 4.5 x 1.1 cm (2.71 x 1.76 x 0.42 inches)
Weight
25.5 g (0.90 oz)
25.5 g (0.90 oz)
Environmental Rating
IP65
IP65
Image Description
CE (EU compliance)
ce (EU compliance)