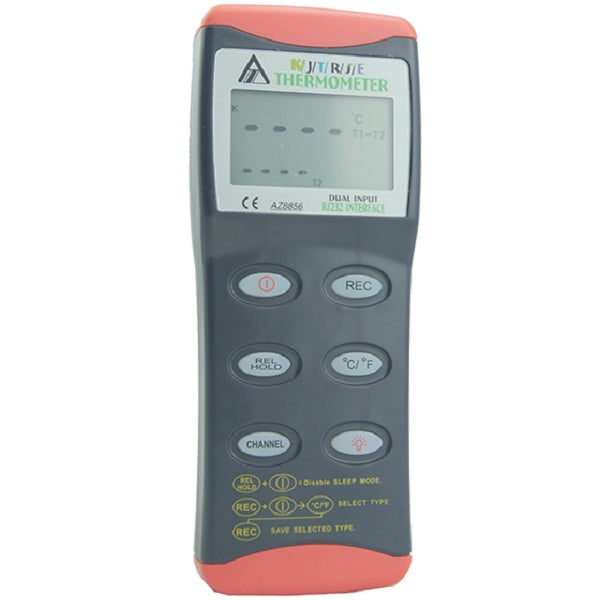 Dual K, J, T, R, S, E Thermometer
The 8856 Thermocouple Thermometer can measure the temperature from -200~1760℃, depended on which kind of Thermocouple temperature sensor attached.

The 8856 Thermocouple Temperature can attach to K, J, T, R, S, E type thermocouple temperature sensor with two channels input by different usage. Numerous viewing combinations are available. The big LCD has three display parts, which can keep user check the temperature and relative time information constantly.
Highlighted Features
Fashion design and the most popular & fast multiple type thermocouple measuring meter




Super big LCD for easy reading




Data records stamped with real time clock




Dual input K, J, T, R, S, E Thermocouple probe compatible




T1, T2 and T1-T2 (differential temperature between two origins) could be check




Max/Min temperature record checking




Hold function to freeze the real time temperature data




Battery low indication




Temperature unit ℃/℉could be selected




RS232 Interface




Backlight display




DC Jack
Applications
The 8856 Temperature Meter with thermocouple sensor has the back light function, which can let user operate in the dark area easily. The temperature readings could be toggled between Fahrenheit and Celsius easily.

The 8856 AZ Thermocouple Temperature Meter is the ideal tool as the temperature monitoring and controlling for LAB, Biochemistry, HVAC/R, Construction or other Industry applications.
Specifications
Model
8856

K Temperature Range

-200~1370℃, -328~2498℉
(Under 18~28℃ ambient tempreature)

K Temperature Accuracy

±(0.1% rdg+0.7℃), ±(0.1% rdg+1.4℉)

K Temperature Resolution

0.1℃, 0.1℉

J Temperature Range

-200~760℃, -328~1400℉
(Under 18~28℃ ambient tempreature)

J Temperature Accuracy

±(0.1% rdg+0.7℃), ±(0.1% rdg+1.4℉)

J Temperature Resolution

0.1℃, 0.1℉

T Temperature Range

-200~390℃, -328~730℉
(Under 18~28℃ ambient tempreature)

T Temperature Accuracy

±(0.1% rdg+0.7℃), ±(0.1% rdg+1.4℉)

T Temperature Resolution

0.1℃, 0.1℉

R Temperature Range

0~1760℃, 32~3200℉
(Under 18~28℃ ambient tempreature)

R Temperature Accuracy

±(0.3% rdg+0.7℃), ±(0.3% rdg+1.4℉)

R Temperature Resolution

0.1℃, 0.1℉

S Temperature Range

0~1760℃, 32~3200℉
(Under 18~28℃ ambient tempreature)

S Temperature Accuracy

±(0.3% rdg+0.7℃), ±(0.3% rdg+1.4℉)

S Temperature Resolution

0.1℃, 0.1℉

E Temperature Range

-200~736℃, -328~1356℉
(Under 18~28℃ ambient tempreature)

E Temperature Accuracy

±(0.1% rdg+0.7℃), ±(0.1% rdg+1.4℉)

E Temperature Resolution

0.1℃, 0.1℉

LCD Size

51(L) * 30(W) mm

Operating Temperature

0~50℃

Operating RH%

Humidity <80%

Storage Temperature

-20~50℃

Storage RH%

Humidity <90%

Meter Size

182(L) * 72(W) * 30(H) mm

Weight

~150g

Battery

9V * 1 PC or adaptor

Standard Package

Meter, K bead thermocouple *1 PC, Battery, Manual

Optional Accessory

K type thermocouple (custom made thermocouple
is available upon request), Rubber boot