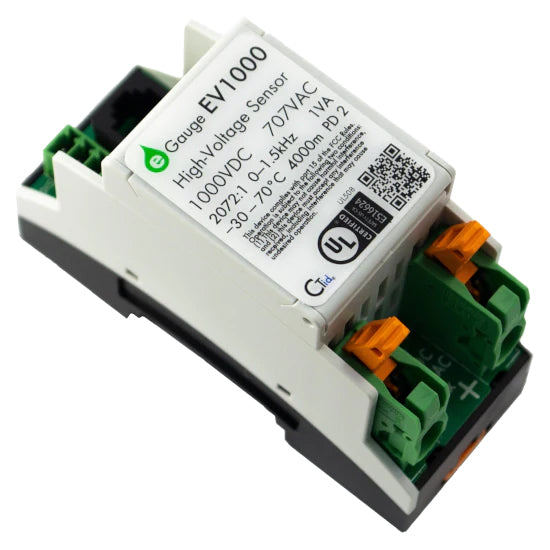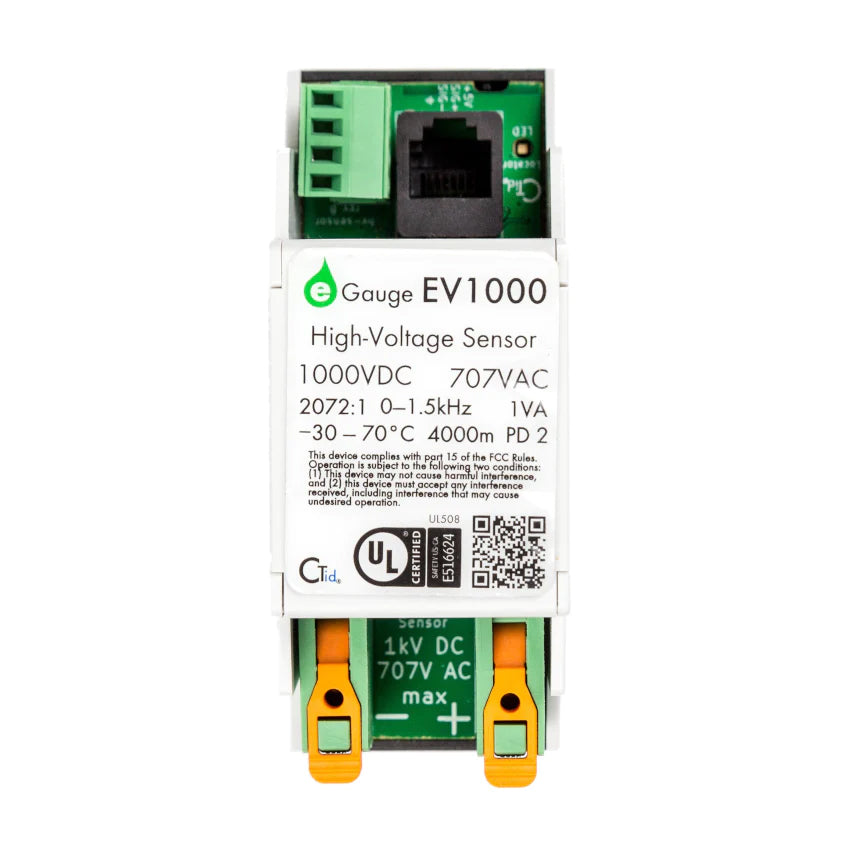 eGauge High Voltage Sensor
The eGauge High Voltage sensor (EV1000) is a fully isolated voltage transducer that measures up to 1000 VDC or 707 VAC and outputs a proportional ±0.5V signal. The EV1000 is designed to work with the eGauge Pro, eGauge Core, and eGauge Core Residential.
These meters feature CTid technology which allows auto-detection of sensor type, serial number, and other calibration information. The High Voltage sensor features an onboard LED which can be used to identify or locate a particular sensor connected to a particular meter input.
The EV1000 requires the eGauge Sensor Hub (ESH044) and either a 5Vdc power supply or a USB port for power (a USB port on the eGauge meter may be used).
Highlighted Features
The EV1000 is designed to work with the eGauge Pro, eGauge Core, and eGauge Core Residential
These meters feature CTid technology which allows auto-detection of sensor type, serial number and other calibration information
The High Voltage sensor features an onboard LED which can be used to identify or locate a particular sensor connected to a particular meter input
Specifications
CTid Enabled (w/ auto-configure and locator LED)
Max Voltage: 1,000 VDC or 707 VAC
Frequency Range: DC to 1.5KHz
Accuracy: Better than 0.5%
Wire size: Up to AWG 10
Power supply (via Sensor Hub): 5V 100mA
Temperature Range: -30 °C to 70 °C
Output Interface: RJ-11 (CTid®) or 4-pin terminal block
Output Signal: ± 0.5 V
Mounting: Compatible with 35 mm wide, 7.5 mm tall DIN rails
Dimensions: 90x36x60 mm3 (LxWxH)
Weight: 60 grams
Certifications:

UL 508 Ed. 18
FCC Title 7 CFR Part 15 Subpart B Class B
ICES-003 Information Technology Equipment Class B
Documentation