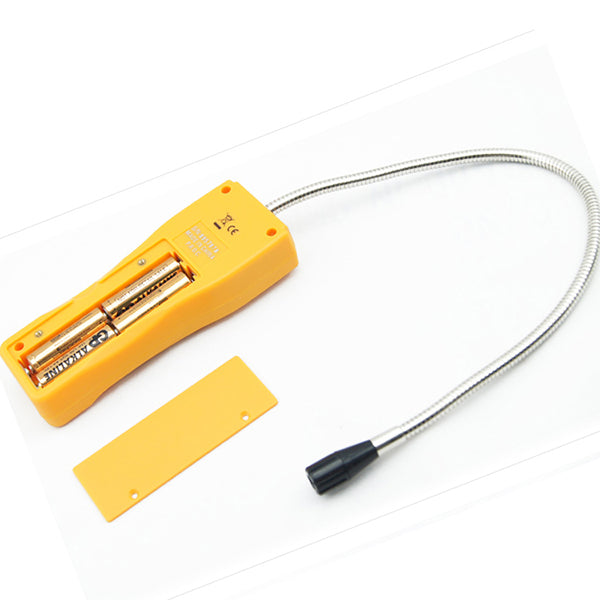 The portable 7201 AZ CH4 Gas Detector can measure the Natural Gas, Methane (CH4) and Propane (C3H8, liquefied petroleum gas, LP-gas or LPG), which had been widely used as part of a safety system.
Highlighted Features
Low cost handheld type detector checking gas leakage




High measuring range of Methane to 120 ppm




Filter included for high discrimination




Bright 5 level leakage LED indicator




Status ready and battery low led indicator




Quality and reliable Semi-Conductor sensor




Built in auto-Calibration function while meter powers on




Long and flexible stainless goose neck detect probe




Built in earphone jack for mute mode use




60 seconds warm up time




Response time less than 10 seconds




Auto power off to save battery life
Application
The 7201 AZ Portable Methane Detector can be used in the gas extraction environment (waste disposal livestock farming and coal mining), kitchen or home living room. It also can measure the gas from the car exhaust pipe.
Specifications
| | |
| --- | --- |
| Model | 7201 |
| Methane Range | 120~1920 ppm |
| Methane Sensitivity | 1200 ppm |
| Propane Range | 40~640 ppm |
| Propane Sensitivity | 40 ppm |
| Gas Discrimination Filter | Built-in |
| Response Time | within 10 seconds |
| Warm Up Time | within 60 seconds |
| Meter Size | 175(L) * 47(W) * 28(H )mm |
| Operating Temperature | -5~45℃ |
| Operating RH% | 5~95% RH (avoid condensation) |
| Storage Temperature | -20~50℃ |
| Storage RH% | 0~95% RH (avoid condensation) |
| Power Supply | 4 PCS AA Batteries or 9V Adaptor |
| Weight | ~120g |
| Flexible Probe Length | 18" (465 mm) |
| Standard Package | Meter, Manual, Batteries, carry case |