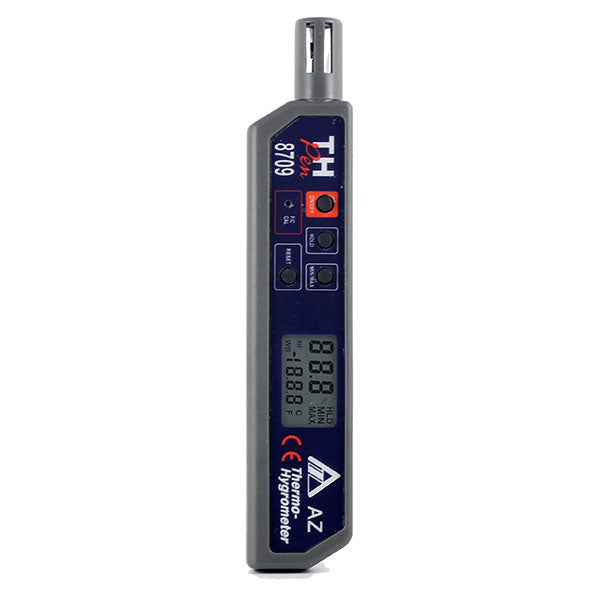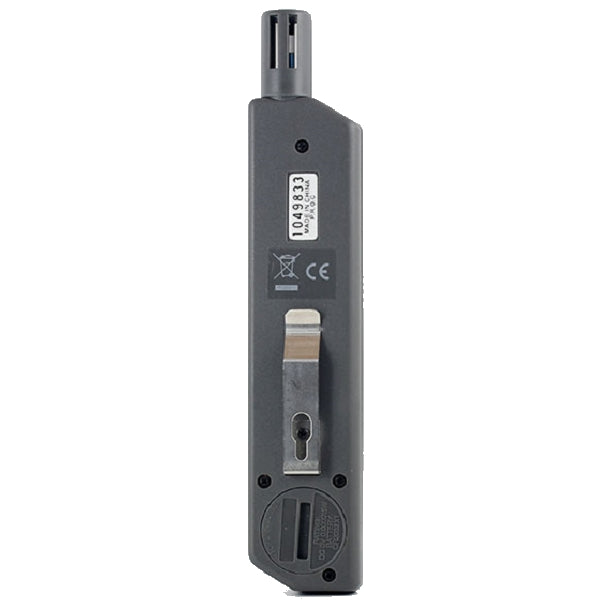 The portable 8709 AZ Thermo RH% Meter can measure the air temperature and relative humidity easily, and it can be calibrated easily with the 33% and 75% salt bottle.
Highlighted Features
Read Temp. / RH% simultaneously




Capacitance polymer RH sensor




Hold / Min. / Max. Features




Most Accurate RH% pen on the market




Easy self-calibration by optional salt kits




Pocket clip design for easy carry around
Applications
It could be used as the best humidity monitoring tool for the school, factory, warehouse, workspace, laboratories, basement, wine cellar or other controlled environment.
Specifications
| | |
| --- | --- |
| Model | 8709 |
| Temperature Range | -20~50℃ |
| Temperature Resolution | 0.1℃, 0.1℉ |
| Temperature Accuracy | ±1℃ |
| Humidity Range | 0~100% RH |
| Humidity Resolution | 0.1% RH |
| Humidity Accuracy | ±3%RH (at 25℃, 10~90%RH, others ±5%RH) |
| RH Sensor Type | Capacitance |
| Response Time | 60 Seconds Typical |
| Self Calibration | YES |
| Battery Life | >150 hours |
| LCD Size | 29(L) * 18(W) mm |
| Storage Temperature | -20~50℃ |
| Storage RH% | Humidity <90% |
| Meter Size | 175(L) * 42(W) * 16(H) mm |
| Weight | ~55g |
| Battery | CR2032 * 1PC |
| Standard Package | Meter, Battery, Manual, Paper Box |
| Optional Accessory | Calibration Kits |