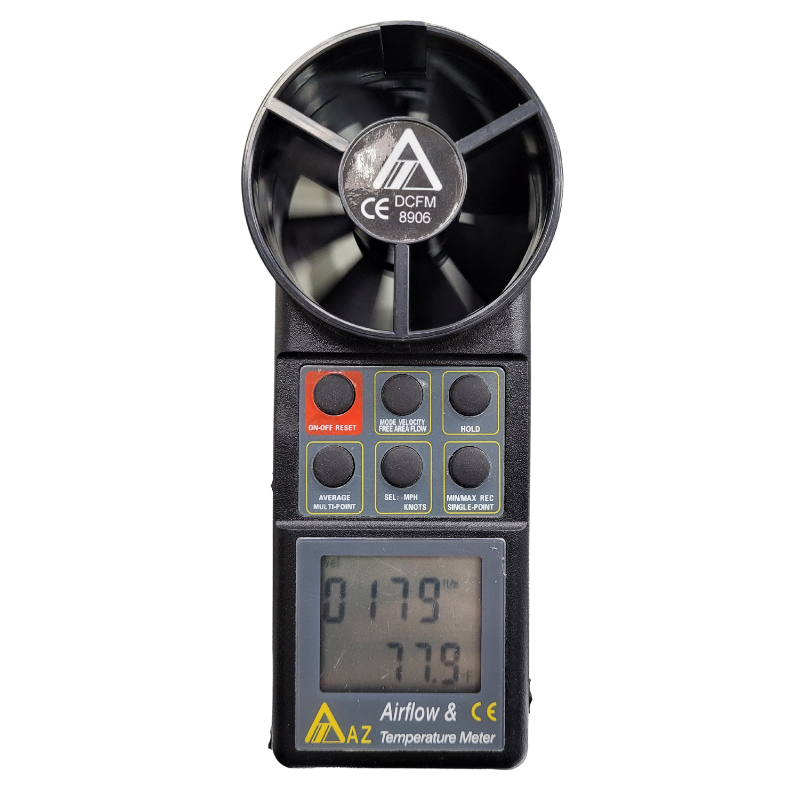 Integrated Fan Air Flow Anemometer
The 8906 AZ wind speed meter has an integral fan to measure the Air Speed, Air Velocity, Air Volume, and Temperature. The meter features versatile functions, use it to check air velocity FPM (Feet per minute) and CFM (Cubic feet per minute) in residential, light commercial, and standard commercial systems.

The 8906 AZ Anemometer was designed and manufactured by AZ Instrument, a well-experienced manufacturer of Anemometer Company.
Highlighted Features
 Fashion design with one-hand operation




Integral fan with temperature sensor built-in




Measures air velocity & temperature




Wind speed metric and imperial units are selectable




Temp. Units C/F selectable




Display max. / min. / avg. value




Hold function to freeze current readings




Auto power off in 20 mins inactivity to save power




Sleep and non-sleep modes selectable




LCD display flash as a low battery indicator




Features 8 points velocity average




Air volume calculation




Excellent tool for measuring cfm with the anemometer
Applications
The 8906 AZ Thermometer Anemometer has many user-friendly features, all the features are accessible through the keypads. It could be the best choice as the wind speed monitoring device in HVAC (Heating, Ventilation, Refrigerating, and Air Conditioning) or industrial-related application.

Specifications
Model
8906

Wind Speed Range

0.4~30 m/s; 80~5900 ftm

Wind Speed Accuracy

±(2% of reading+0.2 m/s)

Air Temperature Range

-10~50.0℃

Air Temperature Resolution

0.1℃, 0.1℉

Air Temperature Accuracy

±1℃

Wind Speed Unit (m/s)

YES

Wind Speed Unit (ft/m)

YES

Wind Speed Unit (KM/H)

YES

Wind Speed Unit (MPH)

YES

Wind Speed Unit (knot)

YES

Air Volume Unit (cms)

YES

Air volume Unit (cfm)

YES

Temperature Response Time

60 seconds (typical)

LCD Update

Every second

Air Volume Display

0~99999 m3/minute

Air Volume Resolution

0.1 (0~999.9) or 1 (1000~9999)

LCD Size

40(L) * 34(W) mm

Operating Temperature

0~50℃

Operating RH%

Humidity <80%

Storage Temperature

-10~50℃

Storage RH%

Humidity <90%

PC Link

YES

8 Pints Velocity Average

YES

Battery Life

100 Hours

Size

Meter: 183(L) * 76(W) * 45(H) mm
Impeller: 70

Weight

~150g

Battery

9V Battery *1 PC

Optional Accessory

Software Kit

Standard Package

Meter, Battery, Manual, Hard Carry Case