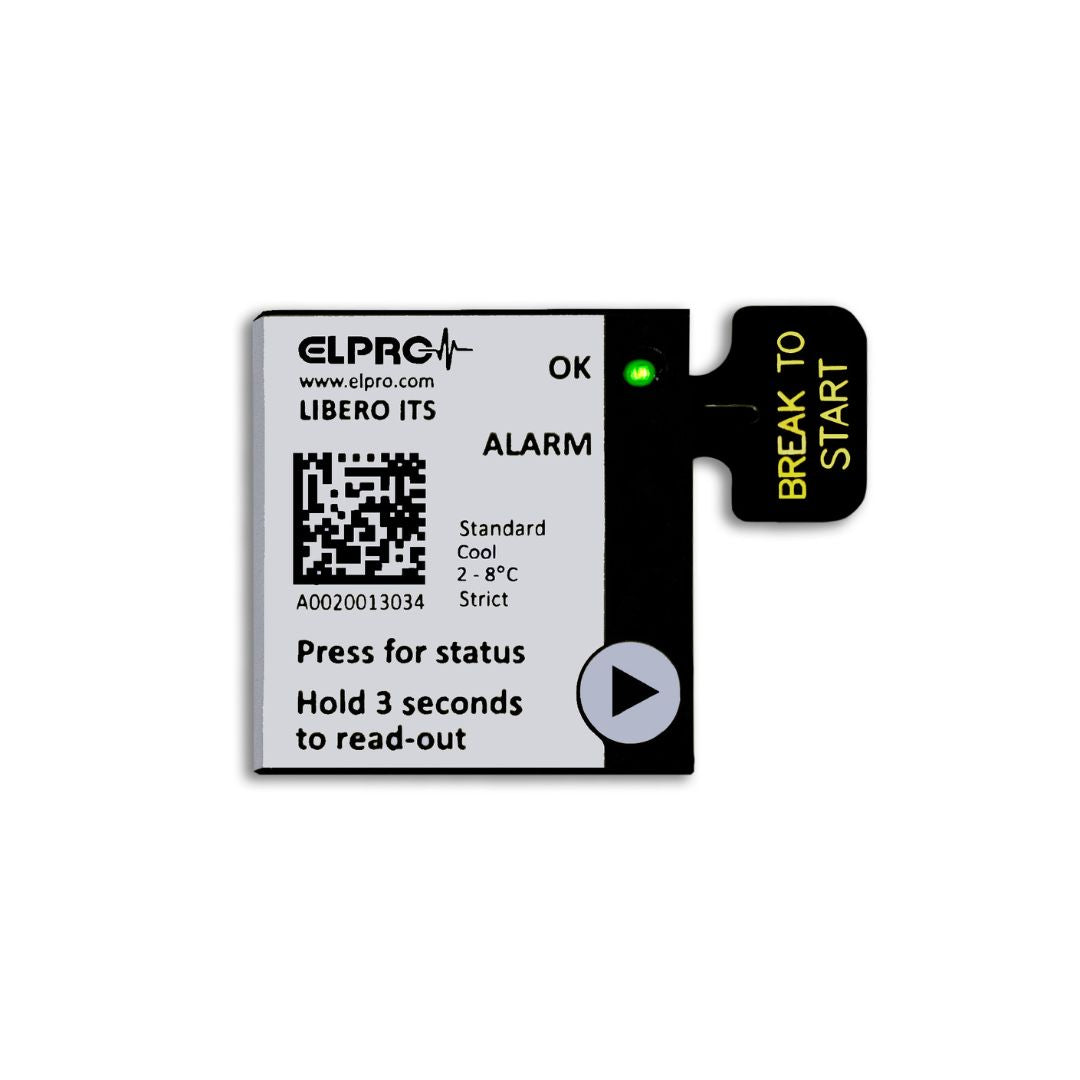 LIBERO ITS - Cool (2-8°C)
The LIBERO ITS is smaller, thinner, more durable, more intelligent, and less expensive than any other indicator available on the market. With the free Smartphone App for Android or iOS: You can easily read the stability budget and temperature data at the touch of a button. Expiry date Management. Pre-configured with Standard Configuration Profile A001 (Cool 2-8 °C).
LIBERO ITS is a device for continuously monitoring temperature and calculating the remaining stability budget of pharmaceutical products or clinical studies along the entire supply chain. LIBERO ITS is thin and small enough to go on clinical kits and sales units and durable enough to stay on the pharmaceuticals during the entire shelf life of up to 5 years. LIBERO ITS manages deviations up to 6 alarm zones. The alarm status is always visible and can be extracted by a smartphone app. LIBERO ITS is compatible with ELPRO's cold chain database liberoMANAGER.
IMPORTANT: LIBERO ITS monitor's temperature exposure and not product quality. Its purpose is to indicate if product quality evaluation/testing is required. LIBERO ITS shall only be applied on outer packaging – avoid usage on pharmaceutical primary packaging (such as blood bags or plastic vials).
Documentation
User Manual

data sheet
Highlighted Features
Monitors the stability budget
Operating range -30 °C to +70 °C
6 configurable  alarm zones
A run-time of up to 4 years

Thin and compact
Low cost
Wireless

read-out of statistics on the LIBERO ITS Apps
Specification
Operating range -30 °C..+70 °C
Measurement accuracy ±0.4 °C typ.
Measurement interval 1 minute
Battery life runs for up to 5 years
Programmable alarms 6 temperature alarm levels with alarm delay options (single or cumulative)
Expiry date (start before) 24 months from production