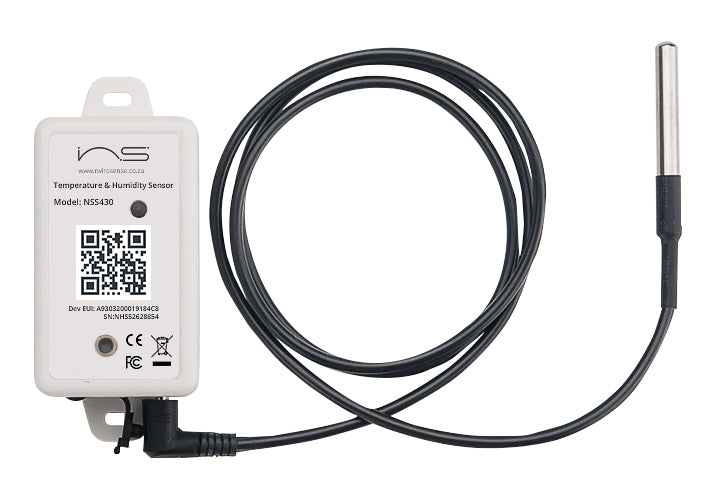 NSS425 Internal Temp/RH Sensor
A battery-powered, long-range sensor platform leveraging the benefits of LoRaWAN, a small, rugged form factor that contains superior RF performance and flexibility with a precise temperature and humidity sensor. At its core, the NSS425/utilizes NviroSense's field-proven and reliable NviroSense hardware, providing loRaWAN options in 868, 915, and 923 MHz frequencies. It offers a logging range of up to 15 kilometers with a local 2.4 GHz connectivity option for smartphones and tablets.
The NSS425 Series works with the NviroSense NSG series of LoRa/multi-wireless indoor or outdoor gateways for simple out-of-the-box integration and is compatible with third-party cloud and LoRa network ecosystem partners.
Documentation
data sheet
Highlighted Features
Multi-wireless: LoRaWAN (868/915/923 MHz) and Bluetooth v4.2 (Central/Peripheral) with fully integrated high-performance antennas.
Multi-sensor: Temperature and humidity.
Simple wireless configuration using a mobile application and BLE.
Integrated out-of-the-box networks: Default configuration with NviroSense's NSS5000 gateways for simple, out-of-the-box cloud connectivity.