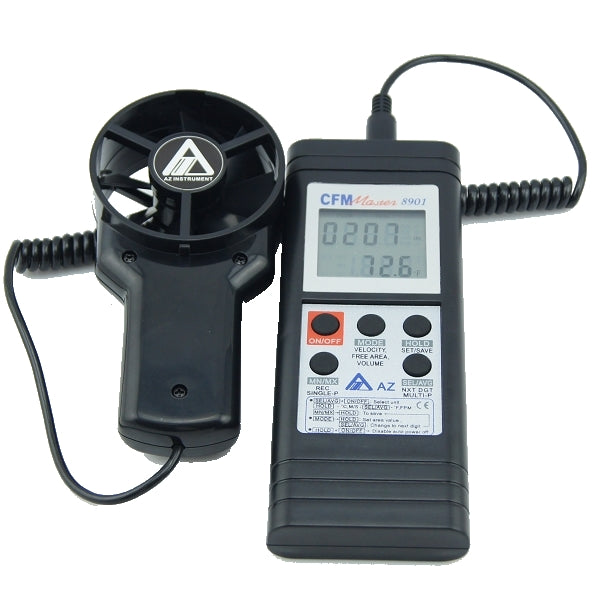 Remote fan Air Flow anemometer
The 8901 AZ wind speed meter has the remote fan to measure the Temperature and Air Speed.

The 8901 AZ Anemometer also could help user to check the air velocity FPM (Feet per minute) and Air Volume CFM (Cubic) in residential, light commercial and standard commercial systems.

Highlighted Features
Remote fan with built-in temperature sensor




Measures Air velocity, Temp. and Air volume




Wind speed metric and imperial units selective




Temp. unit C/F selective




Display Max / Min / Avg. value




Hold function to freeze the current reading




USB interface for PC download




8 point air velocity & volume average display
Applications
The 8901 AZ Air Flow Meter with Remote Fan is the best choice as the wind speed monitoring device in HVAC (Heating, Ventilation, Air Conditioning and Refrigerating) or industrial related application.
Specifications
Model
8901

Wind Speed Range

0.4~35 m/s; 80~6900 ftm

Wind Speed Accuracy

±(2% of reading+0.2 m/s)

Air Temperature Range

-10~50.0℃

Air Temperature Resolution

0.1℃, 0.1℉

Air Temperature Accuracy

±0.6℃

Wind Speed Unit (Metric)

m/s (meter per second)

Wind Speed Unit (Imperial)

ft/m (fee per minute)

Air Volume Unit (Metric)

cms (cubic meter per second)

Air volume Unit (Imperial)

cfm (cubic meter per minute)

Temperature Response Time

60 seconds (typical)

LCD Update

Every second

Air Volume Display

0~99999 m3/s

Air Volume Resolution

0.1 (0~9999.9) or 1 (10000~99999)

LCD Size

42(L) * 37(W) mm

Operating Temperature

0~50℃

Operating RH%

Humidity <80%

Storage Temperature

-10~50℃

Storage RH%

Humidity <90%

PC Link

YES

8 Pints Velocity Average

YES

Battery Life

100 Hours

Size

Meter: 180(L) * 73(W) * 38(H) mm
Vane: 152(L) * 75(W) * 42(H) mm

Weight

~170g

Battery

9V Battery *1 PC or 9V DC Adaptor

Optional Accessory

Replacement Vane Probe / Software Kit

Standard Package

Meter, Vane Probe, Battery, Manual, Hard Carry Case