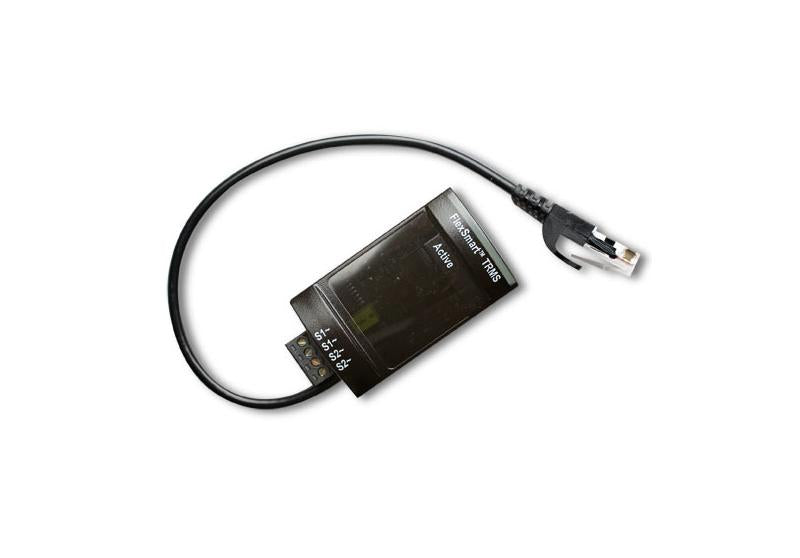 FlexSmart TRMS Module w/ Modular Plug
A 15-bit two-channel module, with modular plug, that accepts an input range of 5mV to 512mV and is compatible with 333mV FS output sensors. Field wiring is 2-wire via screw terminals.
IMPORTANT NOTES:
If using the S‐FS‐TRMSA‐D with a U30‐GSM or RX3003-00-01, RX3004, or RX2100, the S‐FS‐TRMSA‐D should be located approximately 1 meter (3 ft) from the cellular station to avoid interference from the GSM radio. Use Smart Sensor extension cable,

 

S‐EXT‐M002.
If using the S‐FS‐TRMSA‐D with an RX2100 or RX3004 and you are using both the TRMSA-D modules and smart sensors, then you are limited to a maximum of 2 TRMSA-D and any combination of smart sensors to reach a total of 13 data channels. For example, if there are two (2) TRMSA-D modules (4 data channels) in use with the RX3000 or RX2100 station, then this will leave nine (9) additional data channels for smart sensors.
Documentation
Quick Start Guide
Highlighted Features
2 input channels of AC Current and/or Voltage
Measures True RMS for accurate readings of sinusoidal and non-sinusoidal waveforms
Specifications
| Parameter | Description |
| --- | --- |
| Input Channels | Two; AC-coupled |
| Field Wiring | Two-wire via screw terminals on detachable connector, 16-24 AWG |
| Replacement Detachable Connectors | Part of spares kit (A-FS-TRMSA-4P-1) |
| Input Range | 5 to 512 mVRMS |
| Minimum Input Voltage | 5mVRMS; Input voltages < 5mV will be clipped to zero (see graph below) |
| Maximum Input Voltage | ±1V referred to AC- terminals (pins 2 and 4) |
| Input Frequency | 50/60 Hz |
| Accuracy | ±0.3% of reading +/- 0.5% of FSR |
| ADC Resolution | 15 bits |
| AC Waveform | <4 Crest Factor |
| Power Requirements | +3.3V @ 3mA active, 6A sleep |
| Transfer Function | |
| Measurement Averaging Option | Yes |
Applications

In what environment does this sensor operate?
This sensor operates in an indoor environment.
What measurements does this sensor support?
The S-FS-TRMSA-D sensor supports the following measurements: AC Current and AC Voltage