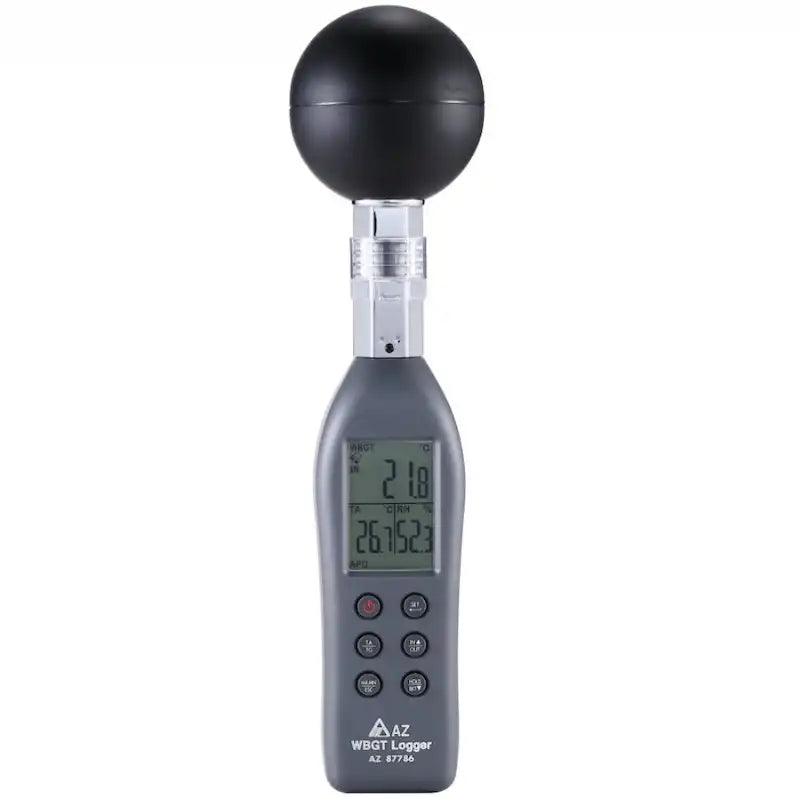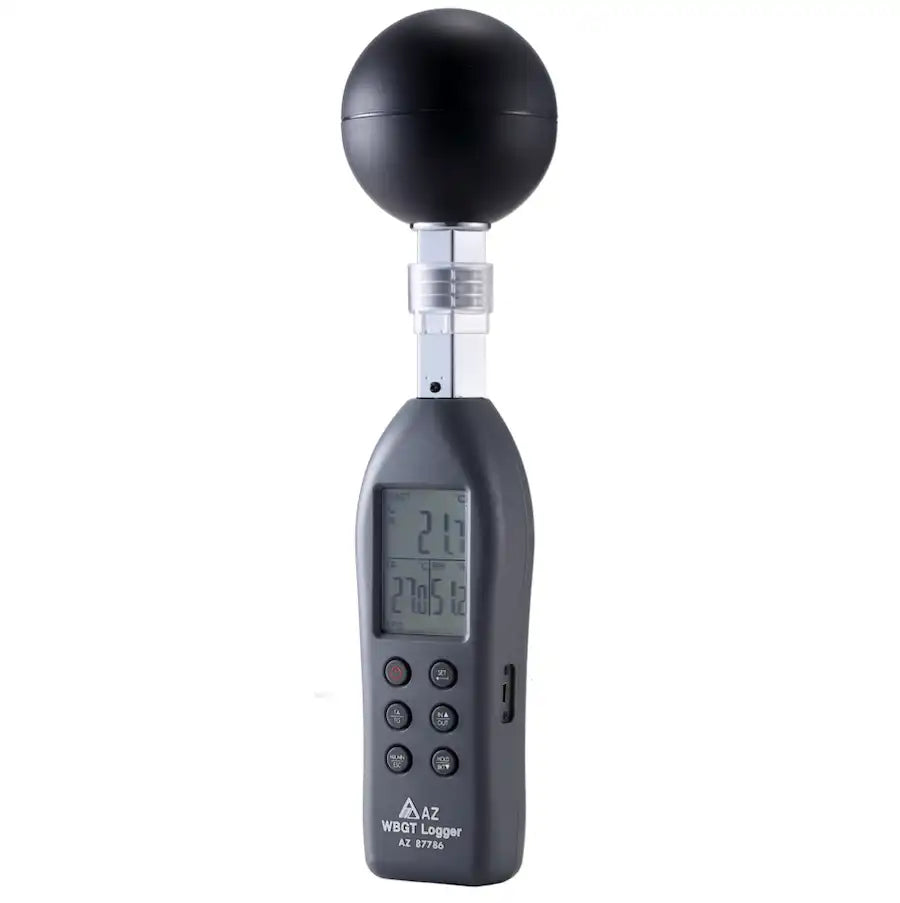 The Wet Bulb Globe Temperature (WBGT) is a composite temperature used to estimate the effect of temperature, humidity, wind speed and solar radiation on humans.

The Handy 87786 AZ WBGT Data Logger could measure air temperature, globe temperature, and humidity to give heat stress index for using in control of physical activity in hot environment to limit the danger of heat-related injuries.
Highlighted Features
Simultaneously display WBGT, temperature & humidity




Check Indoor/Outdoor WBGT, TA/TG & Humidity




Plug & Play. Software and USB driver are not required




Generate csv report without additional PC software




Completely user re-programmable. 8 languages, sampling rate, start delay time and ID setting




One button switch to check Air/ Globe temperature & In/Out WBGT




Designed with capacitance type humidity sensor to get accurate and quick reading




Backlight indicator function (Green,yellow, red, flashing red) as WBGT condition reminder




Easy-to-read big LCD display with 6 dust proof rubber keys




Clear sheath to protect humidity sensor during storage




Filter to protect humidity sensor from dust scratch during operation




75 mm black metal ball to measure globe temperature




Temperature unit ℃/℉ switchable




Hold function to freeze reading and Max/Min function included




Battery low indicator & Sleep mode can be disabled




Tripod receptacle design for long time use




Audible beeper for danger zone warning




Humidity self-calibration via salt bottles kit
Applications
The 87786 AZ Portable WBGT Data Logger can show the different backlight color to distinguish the different temperature value/level. There are 4 kinds of WBGT indicator as follows,
1. Green back light: 26.7~29.4℃
2. Yellow back light: 29.4~31℃
3. Red back light: 31~32℃
4. Red Flashing back light: above 32.2℃
So the 87786 AZ Portable WBGT Data Logger could be the best tool for monitoring the outdoor activities and Prevent people to get Heat Stroke.

The 87786 AZ Portable WBGT Recorder could be operated by industrial hygienists, athletes and the military to determine appropriate exposure levels to high temperatures. Military agencies, OSHA and many nations use the WBGT as a guide to manage workload in direct sunlight.

User could record and download the real time value of 87786 AZ Portable WBGT Recorder via mini USB cable to PC for data analysis. There is no need to install USB driver or software before operating logging function. It could be operated as the USB memory flash drive easily on PC. And there is a tripod hole on the bottle of 87786 AZ Portable WBGT Recorder. User could use the tripod to hold the device vertically for long term use.
It could be applied for measuring the WBGT value in construction, iron and steel foundries, bricks-firing plants, glass facilities, boiler rooms, mining sites, army training, marathon, beach activities and so on.
Specifications
Model
87786

Temperature Range

0~50℃

Temperature Resolution

0.1℃, 0.1℉

Temperature Accuracy

±0.6℃

Humidity Range

0.1~99.9% RH

Humidity Resolution

0.1% RH

Humidity Accuracy

±3%RH (at 25℃, 10~90%RH);
others ±5%RH

Global Temperature (Inside Black Ball)

0~80℃

Global Temp. Accuracy (Indoor)

±1℃at 15~40℃, others ±1.5℃

Global Temp. Accuracy (Outdoor)

±1.5℃at 15~40℃, others ±2℃

WBGT Temperature Range

0~50℃

WBGT Alarm Range

20~50℃

Sampling Rate

1, 5, 10, 30, 60, 90, 120 mins

Start Delay Time

0, 5, 30, 45, 60, 90, 120 mins

Memory Points

12000 readings, each contains
WBGT, TA, TG and RH

Black Ball Size

Diameter 75 mm, Height 75 mm

Stabilization Time

15~25 minutes typical

RH% Self Calibration

With 33% & 75% Salt Bottle

Operating Temperature

0~50℃

Operating RH%

Humidity <80%

Storage Temperature

-20~50℃

Storage RH%

Humidity <90%

LCD Size

50(L) * 32(W) mm

Meter Size

302(L) * 75(W) * 36.7(H) mm

Weight

~300g

Battery

AAA*4PCS

Battery Life

~200 hours

Standard Package

Meter, Batteries, Manual,
Mini USB cable, Paper Box